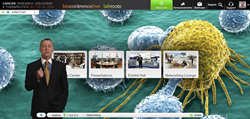 Yorba Linda, CA (PRWEB) October 16, 2014
Interact with leading experts in cancer research, discovery and therapeutics without the hassle and expense of travel. Earn continuing medical education credits from the comfort of a home or office. Join colleagues at a world-class conference without the drawbacks.
"Cancer: Research, Discovery and Therapeutics," an online-only conference taking place October 29-30, 2014, will be conducted through live video webcasts and real-time networking. The virtual conference will connect people in the cancer research community with leading experts in their field at no cost. BioConference Live, the largest producer of online-only conferences focused on life sciences, laboratory animal sciences and clinical diagnostics, is presenting the conference for the second year, featuring some of the world's top research scientists and medical experts to speak about the latest advances in cancer research. Attendees can expect to be educated on new concepts, tools and techniques applicable to current and future research and diagnosis.
The conference will cover a wide range of topics from many fields within the scientific community, including: up-to-date research findings, biomarkers, bioengineering, drug discovery, computational science, diagnostics, therapeutics, genetics, genomics, point-of-care testing, neuro-oncology, certain human cancers, the most recent developments in cancer evolution and resistance and much more. Choose from subject matter such as drug discovery, clinical proteomics, molecular profiling, cancer metabolism: nutrition and cancer, cancer epigenetics, therapeutics, novel trends in cancer detection and screening, immunotherapy/harnessing the immune system for cancer therapy, noninvasive molecular screening for colon cancer, biomarkers in prostate and bladder cancer, animal mouse models, cell signaling, resistance due to mutations, kinome profiling, individualized patient diagnostics, cancer therapies and new techniques, diagnostic testing for clinical decision, best practices for pregnancy testing prior to cancer therapy, lactogenic anemia and diagnostic testing, tools for blood conservation in cancer patients, and therapy for metastatic renal cell carcinoma.
Speakers include:
Anna Barker, PhD -- National Biomarker Development Alliance; School of Life Sciences, Arizona State University
Josip Blonder, MD -- Cancer Research Technology Program (CRTP), Frederick National Laboratory for Cancer Research (FNL); Leidos Biomedical Research, Inc.
Peter Blume-Jensen, MD, PhD -- XTuit Pharmaceuticals, Inc.
Katherine LB Borden, PhD -- Department of Pathology and Cell Biology, Faculty of Medicine, Universite de Montreal, Institute for Research in Immunology and Cancer
Kenneth Buetow, PhD, FACMI -- Computational Sciences and Informatics Program for Complex Adaptive Systems, School of Life Sciences, Arizona State University
John Carpten, PhD -- Integrated Cancer Genomics Division, TGen
William Clarke, PhD, MBA, DABCC -- Point-of-Care Testing; Johns Hopkins Medical Institutions
Vikram Devgan, PhD, MBA -- Qiagen, Inc.
William M. Gallagher, BSc PhD CBiol MSB – OncoMark; University of Dublin
Sharon M. Geaghan, MD -- Lucile Packard Children's Hospital, Department of Pathology, Stanford University
Lee M. Graves, PhD -- The University of North Carolina at Chapel Hill
Fraser Hof, PhD -- University of Victoria
Kimberly Kelly , PhD – Department of Bioengineering, University of Virginia
Mei Kong, PhD -- City of Hope National Medical Center
Kristin Landis-Piwowar, PhD, MLS -- Biomedical Diagnostic & Therapeutic Sciences, Oakland University
Jason W. Locasale, PhD -- Division of Nutritional Sciences, Cornell University
Julian J. Lum, PhD -- BC Cancer Agency's Deeley Research Centre; Department of Biochemistry and Microbiology, University of Victoria
Michael MacCoss, Ph.D. -- Genome Sciences, University of Washington, School of Medicine
Liza Makowski, PhD – Department of Nutrition, UNC Gillings School of Global Public Health
Michael J Mann, MD -- Division of Adult Cardiothoracic Surgery, General Thoracic Surgery, University of California, San Francisco, VA Medical Center
Christian Metallo, PhD -- Metallo Lab; Department of Bioengineering, University of California, San Diego
Ruth Nussinov, PhD -- Computational Structural Biology Group; Center for Cancer Research, National Cancer Institute
Darran O'Connor, PhD -- School of Biomolecular & Biomedical Science; Cancer Biology & Therapeutics Laboratory, University of Dublin
Kerri Phillips -- DNASTAR
Adrienne Scheck, PhD -- Neuro-Oncology Research, Barrow Neurological Institute
Jonathan Shaffer, PhD -- Product Development, Qiagen
Srinivas (Sri) Sridhar -- NSF IGERT Nanomedicine Science and Technology Program; Electronic Materials Research Institute; Harvard Medical School
David Symer, MD, PhD -- Departments of Molecular Virology, Immunology and Medical Genetics, Human Cancer Genetics Program, Internal Medicine, and Biomedical Informatics, Ohio State University Comprehensive Cancer Center
Nadya Tarasova, Ph.D. -- Synthetic Biologics Core, Cancer and Inflammation Program, Center for Cancer Research National Cancer Institute
Life science and clinical diagnostics professionals have praised the BioConference Live series of cost-effective yet interactive online centered conferences. Anyone interested in cancer research should sign up today, for free, at http://www.bioconferencelive.com to take advantage of live streaming sessions by industry leaders, networking with peers and exploration of the virtual exhibit floor showcasing the state-of-the-art in life science and medical technologies.