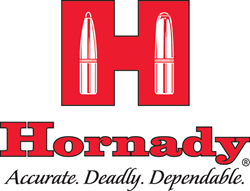 Grand Island, NE (PRWEB) October 16, 2014
In addition to the products highlighted below, new offerings include brass cases, bullets, and accessories. These products will be available from stocking dealers, major retail sporting goods stores, and their websites in early 2015. Dealers can be found by visiting the Retail Locator on hornady.com.
AMMUNITION
American Gunner™ Ammunition
The American Gunner™ line of ammunition is a collection of tried-and-true, versatile loads that are popular for target shooting, hunting or self-defense. Made in the USA with premium components, American Gunner™ ammunition combines generations of ballistics know-how with modern components and technology. Preliminary offerings feature legendary XTP® hollow point bullets, that have been favorites for decades. Designed for hunting, self-defense and law enforcement applications, the XTP® bullet is exceptionally accurate, and is the choice of many top competitive shooters around the world.
Full Boar Ammunition
Full Boar™ ammunition features hard-hitting GMX® bullets for deep penetration and maximum weight retention. These monolithic copper alloy bullets deliver 95+% weight retention and uniform, controlled expansion for unmatched terminal performance on the toughest game. The GMX® bullet is California compatible and appropriate for areas that require the use of non-traditional bullets. Loaded with premium components, Full Boar™ ammunition is available in a variety of popular calibers and is designed to work flawlessly in all guns, to include ARs and other semi-autos.
17 Win Super Mag Ammunition
Rounding out the Hornady® line of high speed rimfire cartridges is the 17 Win Super Mag. Filling the gap between the 17 HMR and the centerfire 17 Hornet, the 17 Win Super Mag fires a 20 grain V-Max® bullet at 3,000 fps. The polymer tip of the V-Max® bullet delivers more than tack-driving accuracy at long range – it also creates dramatic expansion on impact. Retaining over 2,000 fps of velocity at 200 yards, the 17 Win Super Mag provides plenty of velocity for the hard-hitting V-Max® bullet to perform on varmints at extended range.
12 Gauge American Whitetail® Rifled Slug Ammunition
Designed for smooth bore barrels, Hornady® American Whitetail® Rifled Slugs are loaded with a 1-ounce rifled slug. The hollow point slug features a tough, lead alloy core loaded to 1,600 feet per second. The compression-style wad protects the slug at ignition and helps to seal the bore for maximum velocity.
9mm Critical Defense® Lite™ Ammunition
Critical Defense® Lite™ 9mm Luger is an effective, reduced recoil option for any shooter looking to minimize the felt recoil of their lightweight, compact personal protection handgun. Featuring a 27% reduction in recoil compared to standard loads, the 9mm Critical Defense® Lite™ load provides 10" of penetration in ballistic gelatin through heavy clothing.
Designed with the same proven components as Hornady® Critical Defense® ammunition, this offering features a 100 grain FTX® bullet with a unique pink Flex Tip®. The pink bullet tips and pink ribbon packaging help signify that a portion of the proceeds from the sale of Critical Defense® Lite™ will be donated to help fund breast cancer research.
357 Magnum Critical Duty® Ammunition
Critical Duty® 357 Magnum meets established FBI protocol standards for penetration and terminal performance through all common urban barriers. The 135 grain FlexLock® bullet features patented Hornady® Flex Tip® technology that enhances barrier protection and prevents clogging. A massive jacket-to-core InterLock® band locks the jacket and core together for high weight retention. As with all the Critical Duty® loads, the 357 Magnum features low-flash propellants and nickel-plated cartridge cases.
RELOADING
Lock-N-Load ® 1911 Auto™ Primer Tube Filler
Handloaders looking to speed up their primer tube filling times now have a fast and fun method with the Hornady® Lock-N-Load ® 1911 Auto™ Primer Tube Filler. Designed with user safety in mind, the ergonomic handle positions the tray at an optimum angle for feeding primers. The 1911 Auto™ Primer Tube Filler is powered by two AAA batteries and fills a 100-count primer tube in 10-15 seconds.
Lock-N-Load® AP™ Primer Pocket Swage Tool
Designed to be used on the Lock-N-Load® AP™ press, the Hornady® Lock-N-Load® AP™ Primer Pocket Swage Tool quickly and cleanly removes crimps on cartridge case primer pockets. It comes with shell holder, feed, swage tool, and eject dies. Available in 223 Rem/5.56 and 308 Win/7.62 models, swage depth can be adjusted to accommodate various brands of cases. Swaging out the crimps instead of cutting them eliminates trimmings and mess.
Lock-N-Load ® Neck Turn Tool
Designed for use on a wide variety of case lengths, the Hornady® Neck Turn tool is engineered to be powered by a drill (not included) to make neck turning faster and easier, while providing superior consistency and surface finish. The adjustment mechanism features a clicking detent system with felt, .0005" increment adjustments. The detents may also be disabled to provide further variable adjustment.
Lock-N-Load® Bullet Tubes™
Coupled with a Hornady® Bullet Feeder die (sold separately), Lock-N-Load® Bullet Tubes™ provide hand loaders a fast, flexible system that increases loading speed on any compatible progressive reloading press with 7/8-14 thread die-stations. Pre-load the tubes with bullets and place the tube in the top of the bullet feeder die. Tubes can fit 40+ bullets depending on caliber and weight, and feature a milled window for visual bullet level inspection. Lock-N-Load® Bullet Tubes™ are sold in packs of 3 tubes per caliber. Available for 9mm, 40cal/10mm and 45cal.
Lock-N-Load® Quick Change Hand Tool
The ergonomic Lock-N-Load® Quick Change Hand Tool features a dual-sided chuck that allows for quick changeover of popular case preparation tools like chamfer, deburr, primer pocket reamers and cleaners, brushes or other tools with 8-32 threads. Includes three dual-sided chucks, chamfer/deburr tools, large and small primer pocket cleaners and neck brushes for the following calibers: 22 cal, 25 cal/6mm, 270 cal/7mm, 30 cal, 35 cal/9mm and 45 cal.
Lock-N-Load® Sonic Cleaner 7L
Utilize up to 7-liters of high frequency ultrasonic cleaning action to blast carbon residue and other debris from your cartridge cases, gun parts and other metal equipment. A solution saving 1.6-liter small parts tank accommodates empty brass cases and small metal parts, and an additional tank can be purchased separately to allow two small batches to be cleaned simultaneously with different solutions. The keypad with illuminated display allows you to adjust and monitor time, solution temperature, de-gas, ultrasonic and heat functions.
Founded in 1949, Hornady® is a family owned business headquartered in Grand Island, Nebr. Proudly manufacturing products that are made in the USA, Hornady® is a world leader in bullet, ammunition, reloading tool and accessory design and manufacture.
For complete information on the new Hornady® 2015 products, visit http://www.hornady.com/new-products. For further information regarding Hornady® LE products, visit http://www.hornadyLE.com. For more information about all Hornady® products, visit http://www.hornady.com. Media members interested in Hornady® products for editorial review should contact Neal Emery at nemery(at)hornady(dot)com.
# # #