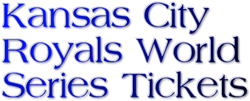 Kansas City, MO (PRWEB) October 15, 2014
Ticket Down is a reputable source for authentic Kansas City Royals World Series Tickets. This well known ticket site has slashed ticket prices on all seats in the stadium and fans can add promo/coupon code ROYALS-WORLD-SERIES for added savings.
Hot on the heels of a comeback 2-1 victory in front of a rowdy crowd at Kauffman Stadium in Kansas City, the Royals are one win away from competing for the World Series. The last time the Royals were even in the playoffs was in 1985 when they won the World Series title. The Royals have been a consistent team throughout the 2014 Major League Baseball season and have been led to the American League Championship Series by one of the best overall teams in baseball.
Since the World Series title in 1985, things haven't been easy for the fans in Kansas City. While other teams in the 2014 playoffs have been led by some of the brightest stars in the sport like Clayton Kershaw, Miguel Cabrera, Mike Trout, and Albert Pujols, the Royals have been led consistently by their group on smart players that take extra bases, get on base, and don't worry about the long ball.
Thus far in the ALCS, the Royals have been led offensively by Lorenzo Cain (8-for-12), Eric Hosmer (5-for-12), Norichika Aoki (3-for-9), and Billy Butler (3-for-10). Throughout the entire postseason, the Royals have been led by different players and six different Royals have come through with a game-winning RBI including Butler, who added a go-ahead RBI single late in game 3.
The pitching staff doesn't have any of the big games other rosters had this postseason, but they are led by four pitchers that have fared exceptionally well. In the postseason, things have been different. Their rotation has been roughed up, but their bullpen has picked up the slack, including pitching four shutout innings last night.
Getting the Royals past the Orioles on Tuesday night had a lot to do with Mike Moustakas and his incredible defense. He made a great diving play on a hot-shot line drive but will now be remembered for diving into the stands to catch a fly ball. The baseball world has seen a player do that with as much hype since Derek Jeter did so in New York several years back.
About TicketDown.com:
Ticket Down delivers tickets to sold out concerts and events worldwide when no one else can, and they do so at discounted prices. This popular ticket exchange has cheap Kansas City Royals World Series Tickets along with cheap concert tickets for all upcoming 2014-2015 tours. Add promo/coupon code ROYALS-WORLD-SERIES for added savings on any ticket order. Find first base, third base, dugout, bleacher, home plate, standing room only (SRO), box seats, VIP Area/Club Lounge, Luxury Suites, parking passes, front row seating and more, Find seats in 100, 200, 300 and 400 sections of Kaufmann Stadium.
Note: Ticket Down is a ticket reseller featuring tickets resold by professional ticket brokers nationwide. We are not associated with any of the baseball teams or venues mentioned in this release. The names that are used in this release are purely for descriptive purposes. We are not affiliated with or do we endorse any professional baseball teams or venues in this release.
Check out our discount codes online for all upcoming events. Ticket Down has low overheads which allow this well-known ticket site to keep prices low.