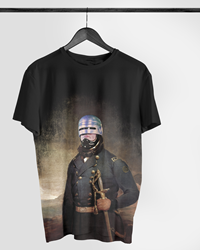 A happy customer says "...the designs you stock are fantastic. Artokingo sells great, stylish and creative t-shirts with very high quality printing"
London (PRWEB UK) 17 October 2014
Artokingo, an online retailer of printed t-shirts, launches its gift cards. Artokingo gift cards are one of the easiest ways of giving Christmas gifts. Artokingo gift cards can be directly emailed to your loved ones. Alternatively, they can be printed as well.
The cardholder can browse hundreds of cool t-shirts at the comfort of home and complete the purchase easily with the gift card.
Although it is a relatively new brand, Artokingo has gained popularity within young generation who seek original designs on high quality t-shirts. A happy customer explained, "I was sick of the same old boring designs... The designs you stock are fantastic. They look equally as good when you receive your shirts as to what you are shown when making your purchase. You sell great, stylish and creative t-shirts with very high quality printing." Some verified reviews from the real customers can be read on Artokingo website, which ensures your loved ones will be shopping from a secure website.
The creative minds behind Artokingo consists of young but experienced people. Artokingo and its parent company Tizarre are under the same management. Artokingo is also featured on Tizarre website with some other famous t-shirt brands such as Threadless. Tizarre is one of the UK's biggest t-shirt retailers since 2012.
About Artokingo:
Artokingo is the UK's first and only artwear brand that combines art and fashionable t-shirts. Artokingo t-shirts are created by a group of carefully selected artists from around the world. Despite its global competitors, such as Threadless, Artokingo collaborates with elite artists only.
Plus, Artokingo is proud of itself for paying the highest royalties to artists. An artist earns £3 (approximately $5) per each t-shirt sold. This is the highest royalty rate on the planet.
Artokingo offers a unique alternative to mass merchandising with its incredibly funny t-shirts for men and women.
Artokingo t-shirts are made from 100% organic cotton that meets requirements of Global Organic Textile Standard (GOTS). These standards are aiming to ensure organic status of textiles, from harvesting of the raw materials, through environmentally and socially responsible manufacturing to provide a credible assurance to the end consumer. Approved are natural fibres that are certified organic and fibres from conversion period certified according to recognised international or national standards and certified by any IFOAM accredited or internationally recognised (according to ISO 65) certifier. The following social criteria currently apply to the textile processing level only. As far as a practical quality assurance system for the farm level will be in place, these social criteria also apply for the farm level.

Employment is freely chosen
There is no forced or bonded labour
Freedom of association and the right to collective bargaining are respected
Working conditions are safe and hygienic
Child labour must not be used
Living wages
Working hours are not excessive
No discrimination is practised
Regular employment is provided
Harsh or inhumane treatment is prohibited