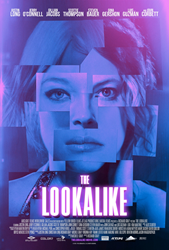 Los Angeles, CA (PRWEB) October 16, 2014
Well Go USA announces the US theatrical release of The Lookalike. The film releases in theatres and digital HD on Friday, November 7, 2014. The dark comedy crime-romance features an all-star cast that includes Justin Long, John Corbett, Gillian Jacobs, Jerry O'Connell, Gina Gershon, Scottie Thompson and Luis Guzmán. The Lookalike is directed by Richard Gray (Mine Games) who is currently in post-production on the thriller Sugar Mountain starring Jason Momoa, and is working alongside Mario Kassar on a new adaption of the world famous novel Audition.
A special red carpet premiere event in Los Angeles followed by a Q&A with cast and crew takes place the week of November 3, 2014 with details TBA. Additional red carpet premiere events with Q&A sessions are set to take place in Boston, Miami, New Orleans and New York October 25-29, 2014.
"We're thrilled to bring The Lookalike to audiences throughout the US starting in November," said Doris Pfardrescher, CEO/President of Well Go USA. "It's a phenomenal film with extraordinary talent that seamlessly blends the elements of the thriller, witty dark comedy and romance, resulting in a captivating experience that will have moviegoers on the edge of their seats until the very end."
Drug lord William Spinks has a curious obsession with Sadie Hill, and uses family friends Bobby and Frank (John Corbett and Jerry O'Connell) to get to her. But when Sadie's death jeopardizes a major deal, Bobby and Frank set out to find a replacement – a lookalike – to fool Spinks. The dubious plan propels an ex-basketball champion, a deaf beauty (Scottie Thompson), an addict (Justin Long), and an aspiring actress (Gillian Jacobs) into an unlikely romance and a desperate quest to start over.
"It's been a dream come true, the response to the movie and the brilliant cast that took a chance on us," said Gray. "We're excited to get this rollin'."
The Lookalike opens in theaters and on digital HD across US on Friday, November 7, 2014.