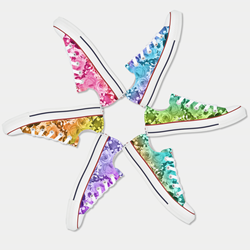 Our customizable sneaker program speaks to the unique character of QTee customers.
Los Angeles, California (PRWEB) October 27, 2014
QTee.com introduces a new program of customizable sneakers, printed upon demand and hand-finished in the company's Southern California headquarters. With this new product offering, QTee expands beyond its line of customer personalized tees and tank tops.
"Our customizable sneaker program speaks to the unique character of the QTee customer," explains Kristin Swanson, QTee Girl and founder of QTee. "QTee Girls are fun, fearless and effortlessly cool. They know what inspires them and can get exactly what they want with our products."
With a fun, easy-to-use web interface, customers select artwork from a wide range of graphics and original creative illustrations that draw on the company's L.A. locale and the care-free lifestyle it embodies. Then they specify the colors of each element within the artwork for virtually thousands of unique design combinations.
Once completed, the designs are custom-printed onto classic white low-top sneakers. Depending on the chosen graphic, these custom printings can span the entire canvas portion of the shoe. "This is a perfect marriage of technology and artisan handiwork," says Kristin Swanson. "Using QTee's exclusive printing process, we carefully prep, print and hand-finish each design in our Los Angeles studio."
Best of all, the personalized look doesn't stop at the feet. Girls can browse the entire website for a wide selection of equally customizable tees and tanks to complete their personalized look from head to toe.
"From our featured collabs to custom designs by the user community, we've found a common thread among QTee Girls: we're curious, collaborative and creative," says Swanson. "But we're individuals too. QTee.com allows each of us to express that in our own fashion-forward way."
The QTee customizable sneaker program is online at: http://www.qtee.com/#/category_shoes
All QTee apparel and accessories are viewable at: http://www.qtee.com/
About QTee
QTee is a one-of-a-kind clothing brand that's equal parts surf racks, yoga mats and DIY projects. QTee.com introduces a unique web interface to the apparel, shoe and accessory world, allowing consumers to completely customize quality designs at the click of a button. The company launched its first line of custom tees and tanks for the casual-style girl in the summer of 2014. Since then, QTee's fusion of fashion with cutting-edge customization technology has opened consumers up to a look that's young, personal, creative and current.