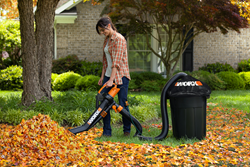 Charlotte, N.C. (PRWEB) October 16, 2014
Homeowners faced with the task of leaf removal now have options. A blower/mulcher/vac lessens the load by herding, vacuuming and then shredding leaves into mulch for the garden, compost bin or curbside pickup. Piles of leaves that normally take numerous bags to fill by hand are reduced by a blower/mulcher/vac into to a small volume of debris that fits into just a few bags.
The WORX LeafPro connects to a blower/mulcher/vac through a 4-in. adapter/hose that is 8 ft. long with a total diameter reach of 16 ft. One end of the hose fastens to the vac outlet, while the other end feeds into a circular, elastic nylon lid. This elastic lid is designed and engineered to fit snugly over the rim of 32 to 96-gallon outdoor waste containers, and then cinch tied. Turn the vac on, and a massive leaf pile is channeled through the vac and hose and then into the waste container.
"With LeafPro, we took leaf collection one step further and simplified the process," said, Brandon Martin, product manager for WORX. "Now, regardless of the blower/mulcher/vac homeowner's own, LeafPro eliminates the need for constant bending or stooping, saving hours of backbreaking work."
WORX LeafPro solves the six-step dilemma of empting the bushel bag every time it's full. There's no more taking off the strap, unzipping the bag, shaking out the bag, rezipping the bag and placing the strap back over your shoulder.
When choosing a blower/mulcher/vac, consider WORX new TRIVAC 3-in-1 Compact Blower/Mulcher/Vac with 2-stage mulching system and electronic speed control. It features a six-speed, electronic variable-speed, throttle control that adjusts the machine's air flow from 75 to 210 mph.
The WORX TRIVAC is one of the only blower/mulcher/vacs that require no tools or kits to convert from blower to mulcher/vac. A single lever makes the conversion quick and easy with no downtime. Once the lever is engaged, TRIVAC's two-stage mulching system takes over. Stage one features a high-velocity shredder blade that shreds debris before entering stage two, which pulverizes it with a metal impeller
Unlike conventional blower/vacs, the WORX vac comes with a unique angled tube with a curved tip. This tube design is great for vacuuming leaves in hard-to-reach areas, such as beneath decks and patio furniture, fence lines, behind central A/C systems and other limited clearance areas.
The TRIVAC is powered by a 12-amp motor with a maximum air volume of 350 cfm. The vac is equipped with a 1 bushel capacity collection bag. The TRIVAC is backed by the WORX 3-year warranty.
The WORX TRIVAC All-in-One Compact Blower/Mulcher/Vac (WG509, $119.99) is available at http://www.worx.com; through online retailers such as Amazon, and Lowes.com, and local professional power equipment dealers. The WORX TRIVAC All-in-One Compact Blower/Mulcher/Vac (WG505, $89.99) single-stage model with metal impeller also is available at Walmart.
The WORX LeafPro High Capacity Universal Collection System(WA4054.1, $39.99) is available at http://www.worx.com, Lowes.com, Amazon and Walmart (WA4054.
In addition to WORX TRIVAC, the WORX LeafPro High Capacity Universal Collection System fits Black & Decker, Toro, Ryobi, Craftsman, Poulan and Poulan Pro, Murray and other popular gas and electric blower/mulcher/vacs.
Follow WORX on Facebook: https://www.facebook.com/worxus?ref=hl
Twitter: https://twitter.com/WORXTools
# # #