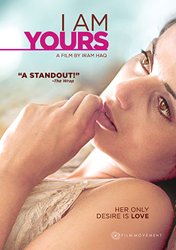 Brilliant! Iram Haq has put together an interesting piece of film with I am Yours.
New York, NY (PRWEB) October 16, 2014
Film Movement (http://www.filmmovement.com), the distributor of award-winning independent and foreign films, announces today that I AM YOURS, a debut feature from Iram Haq and an Official Selection at the Toronto International Film Festival, will be available to own on DVD and at all digital providers on November 11, 2014.
Watch, embed and share the trailer for I AM YOURS, available to own on DVD November 11, here: https://www.youtube.com/watch?v=ey8cMkn1LV8
The film marries two cultures as it follows young single mother Mina, juggling 6-year-old Felix's upbringing in Oslo and her troublesome relationship with her traditional Pakistani family who don't approve of her life choices. Constantly looking for love in all the wrong places, Mina falls in and out of relationships with a string of men, none of them lasting very long. But when Mina meets Jesper, a Swedish film director who dearly adores her, she falls head over heels in love, willing to go to any lengths to make it work this time around.
Noted by Variety as "a talent to watch!" filmmaker Iram Haq effortlessly chronicles both the day to day of Mina's life and her inner monolog as well, bringing to the audience a unique insight into falling, and staying, in love.
Additional praise for I AM YOURS:
"Haq is a talent to watch! Assured…[I Am Yours is] unflinching in its honesty." –Variety
"Brilliant! Iram Haq has put together an interesting piece of film with I am Yours." –The Arts Guild
"An impressively directed and acted feature debut! Beautifully modulated over a taut 90-minutes…audiences remain glued to the screen." –The Hollywood Reporter
"A standout!" –The Wrap
Available to own on DVD on November 11th at FilmMovement.com, Amazon.com and other retailers, I AM YOURS will also be available to own digitally. The DVD also includes a bonus short film, THE AMBER AMULET, the story of a ten year old super hero.
###
I AM YOURS (2013, 96 min) Written and Directed by Iram Haq. Starring Amrita Acharia, Ola Rapace. Cinematography: Cecilie Semec, Marek Wieser. Editors: Janus Billeskov Jansen, Anne Oserud. Producers: Maria Ekerhovd, Ragna Nordhus Midtgard. Norway. Norwegian, Urdu and Swedish with English subtitles. Unrated. A Film Movement Release.
About Film Movement:
Launched in 2003, Film Movement is a full-service North American distributor of award-winning independent and foreign films, based in New York City. Film Movement has released more than 250 feature films and shorts from 50 countries on six continents, including top prize winners from Sundance, Cannes, Venice, Toronto, Berlin, Tribeca and other prestigious festivals. Film Movement releases its films through numerous distribution channels, including thousands of art-house cinemas, universities and libraries; home video; television outlets; Cable Video on Demand (including its very own branded cable VOD platform—Film Festival on Demand—available in over 40 million US homes); In-flight Entertainment and broadband outlets. In late 2013, Film Movement launched RAM Releasing, a genre label to distribute thriller, suspense and noir films across all platforms. For more information, please visit http://www.filmmovement.com.