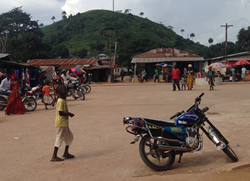 Portland, Ore. (PRWEB) October 16, 2014
Mercy Corps is mounting a community-led public health education campaign in Liberia to raise awareness of prevention practices and change behaviors to reduce transmission of the Ebola virus. In partnership with global health organization PSI and funded by USAID's Office of U.S. Foreign Disaster Assistance, the campaign will build on Mercy Corps' extensive community networks in Liberia cultivated over more than a decade.
"The public health messages reaching communities come primarily from untrusted sources and are not catalyzing the necessary behavior change," says Neal Keny-Guyer, chief executive officer of Mercy Corps. "Treatment alone will not halt the epidemic. We must also ensure that Liberians know how to change their habits in order to slow and ultimately prevent the transmission of this deadly virus."
Mercy Corps is leveraging a network of local and international organizations to identify and empower trusted Liberian community leaders to share accurate and up-to-date public health messages developed by the U.S. Centers for Disease Control and Prevention (CDC) and the United Nations International Children's Emergency Fund (UNICEF). The campaign will focus on the prevention of transmission through good hygiene and guidance on local treatment centers.
"We will be mobilizing thousands of Liberians in the hardest impacted areas to promote accurate public health messages that save lives and calm fears," says Karl Hofmann, president and CEO of PSI. "We are prepared to act with scale and speed."
Mercy Corps has worked in Liberia since 2002, supporting its economic recovery and social transition following years of civil war. As the economic impacts of the Ebola outbreak reverberate across Liberia, the agency is already planning for future phases of the response to restore livelihoods and revitalize markets.
About Mercy Corps
Mercy Corps is a leading global humanitarian agency saving and improving lives in the world's toughest places. http://www.mercycorps.org.
About PSI
PSI is a global health organization dedicated to improving the health of people in the developing world by focusing on serious challenges like a lack of family planning, HIV and AIDS, barriers to maternal health, and the greatest threats to children under five, including malaria, diarrhea, pneumonia and malnutrition. http://www.psi.org