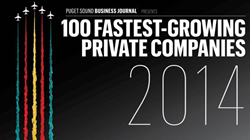 Bellevue, WA (PRWEB) October 16, 2014
Chronus Corporation, a leading provider of software for talent and career development, is featured on this year's "Top 100 Fastest Growing Private Companies" list for the state of Washington, as compiled by Puget Sound Business Journal. The award was announced at the awards dinner in Bellevue on Thursday, October 9, 2014.
Specifically, Puget Sound Business Journal placed Chronus in the top 20 on the list of the 100 fastest growing private companies based on revenue growth of 240% over the past three years. To make the list, companies were required to demonstrate revenue growth between 2011 and 2013 that exceeded their peer companies.
Chronus cloud-based software powers learning and development programs for some of the world's most successful companies. Key new customers this year for Chronus solutions include Comcast, the World Bank, Kaiser Permanente, Suncorp, and the University of California, Berkeley, among others. Chronus helps organizations achieve employee career development goals through mentoring, coaching and training programs that narrow leadership gaps, boost engagement, and improve employee retention. According to Bersin by Deloitte, these are the key areas that HR leaders rated as "urgent" or "important" priorities above other areas such as "talent acquisition" or "globalized talent management" this year in their survey, "Global Human Capital Trends," report 2014.
"Companies today are realizing that engaging and retaining employees is vital for the success of any organization," said CEO & Co-founder Vetri Vellore. "That's why we see so many companies investing in their people through meaningful programs that can influence someone's entire career, like mentoring and coaching. Talent development is here to stay in smart organizations, and our software provides an easy, scalable platform to run these programs, provide effective learning, and measure the results. The programs we power for our customers are improving careers and changing lives."
About Chronus Corporation
Chronus is an award-winning provider of talent development software for enterprise-scale organizations. Leveraging mentoring, coaching, and training, Chronus software empowers a variety of employee development initiatives including career development, leadership readiness, and new hire training. Chronus cloud-based solutions are easy to start and easy to manage, saving organizations time and effort while improving learning and development program effectiveness. Chronus' solutions, including Chronus Mentor, Chronus Coach, and Chronus Learn, are used by more than 500,000 professionals worldwide at institutions including PNC Bank, Staples, the University of Phoenix, the U.S. Federal Highway Administration, and the American Diabetes Association.
Discover more about Chronus at http://www.chronus.com or follow Chronus on Twitter @Chronus_Inc. Blog articles on talent development topics including mentoring, coaching, and training can be found on the Chronus website at http://chronus.com/blog.
###