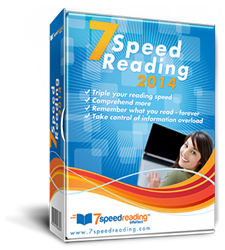 ... speed reading is a quintessential skill for today's information-driven lifestyles...
New York City, NY (PRWEB) October 17, 2014
7 Speed Reading™, a program that helps people to learn to speed read, is favorably regarded by several software review organizations. eReflect, developer of the speed reading program, shares some reviews of the software in its latest blog post on the 7 Speed Reading™ website.
A respectable review site, Top Ten Reviews, has ranked 7 Speed Reading™ first in its category with an impressive rating of 9.95/10. The editors at Top Ten Reviews provided a thorough evaluation of the program's features, tools, and capacities, describing how efficiently and quickly it teaches people how to speed read.
As well as the highly positive review by the Top Ten Reviews editors, eReflect also highlights a review by Typing Lounge. This organization offers their own speed reading software review and concludes that 7 Speed Reading™ is possibly the best program on the market right now. Typing Lounge's review juxtaposes the strengths and weaknesses of the program to provide an honest, balanced evaluation of the speed reading program.
Spreeder.com has also offered a detailed evaluation of the features, strengths, and capacities of the software. This review emphasizes the importance of speed reading as a skill not just for students but for every individual who values their time and wants to invest it in the most efficient and result-driven manner possible.
As eReflect notes, these reviews of the 7 Speed Reading™ program show some patterns in terms of the program's strengths. All reviewers have praised the user-friendliness and state-of-the-art technologies it is equipped with. These two parameters combined ensure a seamless, interactive experience for the aspiring speed reader, and bring them one step closer to increasing their knowledge and authority on any given subject.
eReflect reminds readers that speed reading is a quintessential skill for today's information-driven lifestyles, not least because it lets people keep up with new developments and trends in their profession and culture more generally.
************
For more information about the benefits of using 7 Speed Reading, please visit the official website at http://www.7speedreading.com.
About 7 Speed Reading™
7 Speed Reading is the only modern speed reading software that uses the latest technology to produce superior results.
The software provides its users with a new way to master speed reading that guarantees three times the reading speed along with improved memory and comprehension.
The software is poised as the most comprehensive speed reading system anywhere. It contains seven learning strategies, fifteen software activities, video training, advanced tracking capabilities and many more exciting features.