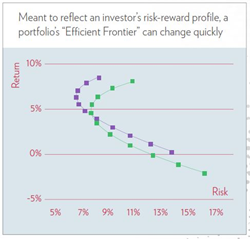 NEEDHAM, MA. (PRWEB) October 16, 2014
Alpha Risk Solutions (ARS), an algorithm-driven ETF manager, recently announced a tactical shift in asset allocation. ARS signaled on October 10 that it was time to exit the Energy, Materials, and Consumer Discretionary sectors.
ARS is invested in the six remaining sector ETFs, Financials, Consumer Staples, Utilities, Health Care, Industrials and Technology – each with a roughly 16.5% allocation. Alpha Risk Solutions applies a proprietary rules-based engine that issues buy and sell signals across up to nine ETFs representing America's major economic sectors.
Chief Investment Officer Warren Mulhern recently addressed these allocation moves. Concerning the Energy sector exit, Mr. Mulhern said: "The sharp drop in oil prices over the past few months negatively impacted Energy. And, with China's energy appetite abating and Saudi Arabia indicating they won't lower oil production until West Texas crude surpasses $80 a barrel, the near-term outlook isn't particularly good."
Turning to the recent price declines in Materials, Mr. Mulhern added, "The rising dollar played a major role. With the 18.2% August drop in domestic durable goods orders – the biggest since 1992 –raw material demand has been substantially lowered."
Global concerns surrounding Europe's economic slowdown extending to the U.S. put pressure on the Consumer Discretionary sector. Mr. Mulhern continued, "This sector contains many of the industries that are most sensitive to economic cycles; including automobiles, textiles and household durable goods. Travel, restaurants and leisure equipment and other services are also heavily represented."
ARS oversees the Alpha Risk Solutions (ARS) Sector Rotation Strategy, launched by the Dolan Capital Group in September, which is designed to track an S&P Custom Index – the Dow Jones/S&P DCG Alpha Risk Solutions Sector Rotation Index (Ticker: ALPHARSK; Website: http://www.alpharisksolutions.com). The strategy is available as a Separately Managed Account (SMA) on the Placemark platform and through other financial intermediaries. Financial Advisors can also access sector rotation signals directly from ARS.
"A disciplined business cycle approach to sector allocation can help investors optimize their portfolio returns," Mr. Mulhern concluded. "Quantitative analysis of past stock market returns has shown that sector exposure can be a significant factor in the performance variance of individual stocks."
About Dolan Capital Group, LLC
The Alpha Risk Solutions Sector Rotation Strategy is managed by the Investment Management Committee at Dolan Capital Group. Dolan Capital Group, LLC is a state of Massachusetts Registered Investment Advisor, investment product developer, manager, and distributor based in the Greater Boston area. Together the principals at Dolan Capital Group bring more than 90 years of investment industry experience to every assignment. Throughout their careers, the principals have had significant leadership roles in a variety of financial institutions. These experiences, complemented by a convincing track record of success in raising assets, provide each client with a strong foundation to meet and exceed their asset gathering and investment goals.
The information presented in the material is general in nature and may not address your investment objectives, financial situation or particular needs. Prior to making any investment decision, you should assess or seek advice from a professional regarding whether any particular transaction is relevant or appropriate to your individual circumstances. Although taken from reliable sources, Dolan Capital Group, LLC cannot guarantee the accuracy of the information received from third parties. Graphs, charts, and/or diagrams cannot, by themselves, be used to make investment decisions.