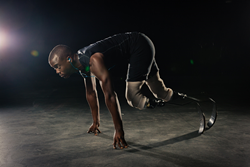 "Blake is an inspiration to everyone who believes that with perseverance, courage and fortitude you can overcome virtually anything."
Brisbane, CA (PRWEB) October 16, 2014
Monster, the world leader in high-performance personal audio, is proud to announce that Blake Leeper, "The American Bladerunner," has joined the growing roster of athletes who support Monster. Blake, "the fastest man in America on no legs," is aspiring to be the first American double amputee to compete in the 2016 Olympic Games in Rio De Janeiro, Brazil. His new alliance with Monster marks the beginning of a partnership that brings together Leeper's inspirational story and trailblazing spirit with Monster's passion for creating products that help athletes and all music lovers reach their full potential, express themselves and integrate music more fully into their lives.
Blake Leeper was born with a congenital birth defect that stopped his legs from growing below the knees, but he has steadfastly refused to let his condition affect his athletic dreams, preferring the label, "Differently Abled" to "disabled." His astounding record of athletic achievement includes a record setting time of 10.91 in the 100-meter dash. Leeper's amazing abilities are featured in a first-of-its kind Monster video created Vanilla Fire Productions. The video literally turns disability on its head, showcasing Leeper's incredible athletic, dancing and performing moves. This high energy video can be seen on the Monster website and will be featured on a variety of social media platforms and broadcast TV platforms.
In recent months, Leeper has been breaking new ground on a regular basis. His athletic abilities have astounded fans at high-profile professional football and baseball events He is also the first disabled human to fly in a F-16 with the legendary Airforce Thunderbirds, and the first double amputee to be featured on a Wheaties box.
Leeper Goes Full Speed Ahead for Monster iSport™ Headphones
As the company's newest celebrity ambassador, Leeper will serve as a powerful Monster advocate for its sports-themed Monster products, like its award-winning iSport® Headphone line. All iSport models feature the astounding clarity, power and dynamics of Pure Monster Sound™. Designed by Head Monster Noel Lee, Pure Monster Sound™ is a proprietary, well-balanced, audio signature that offers the full experience of live music, with extreme clarity, tight articulation and deep pounding bass that brings out all the dynamics and impact of an artist's performance.
Head Monster Noel Lee noted: "Blake Leeper is an inspiration to everyone who believes that with perseverance, courage and fortitude you can overcome virtually any obstacle in life. As our newest Monster Evangelist, he will help communicate to athletes and music lovers that our innovative products can empower you to achieve your very best by using the power of music to motivate you to reach your full potential."
At Monster, Leeper joins the likes of UFC Women's Bantamweight Champion Ronda Jean Rousey, Seattle Seahawks NFL star Marshawn Lynch, 4-time Golden Glove winner and 2-time World Series Champion outfielder Shane Victorino, professional basketball superstar and media personality Shaquille O'Neal, UFC Lightweight Champion Anthony Pettis, Actor, Model Tyson Beckford and international recording artist Jay Sean as brand-marketing partners for the company.
For more information on The American Bladerunner, please visit, http://www.americanbladerunner.com and http://www.blakeleeper.com , http://www.monsterproducts.com.
ABOUT MONSTER
For the past 35 years, Monster® has been a catalyst for innovation and big ideas. Discovering that cables in hi-fi systems influenced the sound, Head Monster Noel Lee developed Monster Cable - an immediate hit. Monster® engineered the sound of Beats® headphones, and has since become the world's leading manufacturer of high-performance headphones, all featuring Pure Monster Sound™ technology. Today, the company offers advanced connectivity solutions for professional musicians, home entertainment, computing, mobile and gaming, as well as high performance AC Power and conditioning products. Monster® continues to lead in innovation with Monster having been granted over 500 patents and 100 patents pending worldwide, offering more than 5,000 products in over 160 countries. Monster® also prides itself in helping those who are in less-than-fortunate circumstances through Monster Cares. Above all, Monster® does what it does Because The Music Matters.
Explore the world of Monster at http://www.monsterproducts.com. To become a fan of Monster® products, please follow us on Facebook (http://www.facebook.com/monsterproducts) or Twitter (http://www.twitter.com/monsterproducts).
About Vanilla Fire
Vanilla Fire is a full service film, commercial, print and sports Management Company. The first-of-a-kind commercial video about Blake Leeper was conceived and delivered by award-winning filmmaker Steven C. Barber, CEO of Vanilla Fire Productions, with the skill and exception talents of Neil Sandilands, producer, director and editor, hailing from Capetown, South Africa. Featured work from Vanilla Fire Productions can be viewed at http://www.vanillafire.com, http://www.weebley.com.