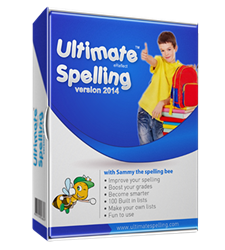 Family culture tends to take the back seat once young children enter their teenage years, but with strong family bonds...
New York City, NY (PRWEB) October 18, 2014
Homeschooling is a growing trend in the US as more parents want to create deep, meaningful bonds with their children and increase the amount of time parents and children spend together, as Cathy Wentz's Article in The Spectrum stated. Many people choose to home school their children to cultivate family culture and strengthen family values and ethics.
eReflect supports every homeschooling parent who takes the painstaking but rewarding venture of homeschooling their children. While some people see homeschooling as a counterproductive idea that goes against the very principles of education, parents and students who engage in homeschooling generally agree that it is actually an opportunity for integrating family and learning seamlessly.
eReflect, creator of the spelling program Ultimate Spelling, notes that this software is particularly popular with homeschooling parents, because of its easy to use tracking tools. However, the company emphasizes that no matter which educational model parents choose for their children, the aim is always the same: to equip children with the skills, knowledge, and capacities necessary to excel in life and in their careers.
eReflect's spelling bee software can be used in schools, at home, and even in companies who want to boost their employees' skills. Homeschooling parents find the spelling help the software offers useful as it provides comprehensive activities and resources arranged by grade level. This means that parents don't have to create their own spelling curriculum, but can instead build upon the ones the software already offers.
Homeschooling children is something that gives many parents the chance to integrate fun activities with learning so that students don't feel overwhelmed by the amount of activities, sports, and learning sessions they have to get through each day.
Family culture tends to take the back seat once young children enter their teenage years, but with strong family bonds, students continue to valuing their families and seek their support in difficult times, whether those difficulties are school ­related or not.
Combining family time and learning ensures the quality of family time is truly increased and that parents and children develop long­lasting deep bonds. Whether parents choose homeschooling or not, it is important that children cherish and cultivate their interpersonal skills, eReflect concludes.
***********
For more information about how Ultimate Spelling software can improve spelling performance for you and your family, please visit the official website at http://www.ultimatespelling.com.
About Ultimate Spelling™
Ultimate Spelling provides a modern and easy to use spelling software that has been designed with one goal in mind – making children want to learn.
It is a fast and easy way to master even the most complicated spelling, without the need to write long lists or complete boring tests.
In fact, Ultimate Spelling provides more than just spelling help. It is a complete educational resource that boosts all level of a child's literacy.
Containing a personal computer tutor, Ultimate Spelling is the most realistic step-by-step guide to flawless spelling ability.