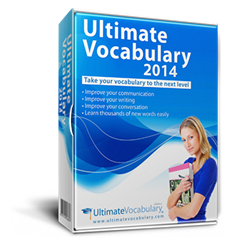 With the right tools, anyone can boost their vocabulary and expand their communication impact...
New York City, NY (PRWEB) October 19, 2014
eReflect notes that Ultimate Vocabulary™ is r anked #1 by various independent reviewers, and in a recent blog post at the Ultimate Vocabulary™ blog, the company shares what reviewers have to say about the build-your-vocabulary program. Reviewers like Top Ten Reviews and Derek McKenzie from Word Buff have seen the potential of this vocabulary builder in improving not just people's vocabulary but their communication skills as well.
For eReflect, a software product is successful when it serves people's most pressing needs. Two needs the Ultimate Vocabulary™ builder caters to are people's need for boosted self-confidence and the power to communicate effectively and persuasively.
As eReflect points out in this recent article, what makes Ultimate Vocabulary™ stand head and shoulders above its rivals is the increased control the user has over the learning process. The user can learn at their own pace and engage in a personalized experience of vocabulary practice that's tailored to their individual needs and learning style.
These capacities, when combined with user-friendliness, interactive exercises, and fun vocabulary games, make Ultimate Vocabulary™ a favorite program for many editors — as several vocabulary software reviews illustrate. In their vocabulary software reviews, these editors point out that Ultimate Vocabulary™ offers the most complete learning experience for any user regardless of their age, learning needs, or goals.
Ultimate Vocabulary™ is a feature-rich program that keeps the needs of modern-day users in mind. Not only does the program help people boost their vocabulary and be more assertive in their face to face communication, it also addresses issues related to digital communication.
With the right tools, anyone can boost their vocabulary and expand their communication impact, notes eReflect. Educational software is fast becoming the go-to source for anyone wanting to refine a skill quickly while not compromising on a comprehensive learning experience.
As eReflect concludes in this review synopsis, their vocabulary program stands out from its competition because it has been designed using the latest technologies and insights, and offers word mastery that's easy and rewarding to acquire.
***********
For more information on how you can benefit from Ultimate Vocabulary, please visit its official website, http://www.ultimatevocabulary.com.
About Ultimate Vocabulary™
Ultimate Vocabulary provides a proven and powerful platform, built to improve anyone's vocabulary.
The interactive self-improvement system provides more learning tools than any other program on the market, as well as more information on words.
The Ultimate Vocabulary software provides each and every user with a personal computer tutor. Providing a step-by-step guide to learning a powerful vocabulary, Ultimate Vocabulary is the learning tool everyone can benefit from.
Of course, the software is also backed by eReflect's iron-clad money back guarantee.