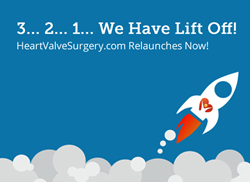 This interactive platform provides a valuable and much-needed service for heart valve patients," stated Dr. David Adams, Chair of the Department of Cardiovascular Surgery at The Mount Sinai Hospital
Los Angeles, California (PRWEB) October 16, 2014
HeartValveSurgery.com, the largest educational resource and online community of patients with heart valve disease, announced today that it has re-launched with 200 new features and capabilities.
"Our mission is to educate to empower patients throughout their surgical cycle," stated Adam Pick, a double heart valve surgery patient and founder of HeartValveSurgery.com. "This new platform was designed to amplify that mission."
According to Pick, the new HeartValveSurgery.com leverages the latest social capabilities, mobile technologies and aggregate content feeds that provide patients direct access to over 9,000 pages of content. To watch the re-launch video, click here.
"This interactive platform provides a valuable and much-needed service for heart valve patients," stated Dr. David Adams, Chair of the Department of Cardiovascular Surgery at The Mount Sinai Hospital in New York, New York. "Once again, the team at HeartValveSurgery.com has exceeded my expectations."
Each year, over 250,000 surgical procedures are performed to treat valvular disorders including aortic stenosis and mitral regurgitation. With this website re-launch, HeartValveSurgery.com offers patients a trusted, end-to-end resource for managing heart valve defects. Features embedded within the platform include a social network, a learning center, a surgeon finder, a heart hospitals directory, a video library, a blog, a book and a novel transcatheter aortic valve replacement (TAVR) application.
Dr. Patrick McCarthy, the Chief of Cardiac Surgery at Northwestern Medicine in Chicago, Illinois, stated, "I sometimes cringe when patients tell me what they have learned from the Internet. HeartValveSurgery.com is completely different. Patients, physicians and nurses can trust the content on this website."
According to Pick, the highlights of the platform include an advanced, socially enabled interface, a complete rebuild of its social network, a responsive design framework for Internet-enabled devices, and real-time content feeds that allocate and distribute content posted by multiple sources including patients, family members, friends, caregivers, nurses, cardiologists and surgeons.
"We are very excited to launch this new platform which acknowledges and addresses the global trend of social, patient advocacy," stated Pick, "We are also very thankful for the incredible support of our wonderful community – the patients, caregivers, surgeons, cardiologists, medical teams and sponsors – who have come together to educate, to empower and to inspire each other."
HeartValveSurgery.com is supported by over 30 leading heart hospitals including Cleveland Clinic, Dignity Health Sequoia Hospital, Florida Hospital, Columbia University Medical Center, Northwestern Medicine, The Mount Sinai Hospital, Piedmont Heart Institute, the University of Michigan, and the University of Virginia Health System.
About HeartValveSurgery.com
Founded in 2006, HeartValveSurgery.com (HVS) is the world's largest educational resource and online community of patients with heart valve disease. HVS provides patients, their families and their friends a trusted platform for each step in the surgical cycle -- from diagnosis to recovery.
The HVS platform includes a social network, a surgeon finder, a heart hospital directory, a microsite application, an educational video library, a learning center, a book and a blog.
Contact information:
Contact HeartValveSurgery.com:
Robyn Podell, Director of Communications
(310) 721-0587
robyn@heartvalvesurgery.com