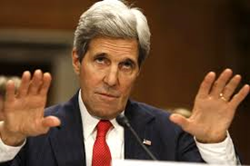 The United States risks alienating the entire region. In order to pursue the interests of the United States and the Syrian population, U.S. policymakers must coordinate air strikes with vetted opposition fighters to minimize
Washington D.C (PRWEB) October 17, 2014
On Friday October 10, the Coalition for a Democratic Syria (CDS), a coalition representing over 100,000 Syrian Americans, sent a letter to Secretary of State John Kerry calling for immediate steps to protect civilians and coordinate with local opposition groups on the ground in order to mitigate the humanitarian damage of the US-led strikes on ISIS.
The text of the letter is below:
Dear Secretary Kerry:
The Coalition for a Democratic Syria (CDS), a coalition representing over 100,000 Syrian Americans, is gravely concerned with the conduct of the U.S.-led airstrikes in Syria. While CDS welcomes American leadership in bringing stability to Syria, the current course of action will be ineffective. CDS asks U.S. policymakers to exercise greater caution and to coordinate their campaign with Syrian opposition groups in order to avert the complete deterioration of Syria's humanitarian situation.
U.S. efforts to target ISIS and other extremist fighters have inadvertently exacerbated the humanitarian crisis. Strikes have not only killed Syrian civilians but have also decisively weakened the already limping essential infrastructure. U.S. attacks on oil fields have doubled fuel prices in Aleppo and Idlib due to growing risks associated with the oil trade. Emergency first responders in cities that endure constant barrel bombs from the Assad regime are struggling to afford fuel for ambulances and hospital generators. This scarcity hurts their ability to respond to constant aerial assaults from the Syrian air force. Food availability has also diminished after U.S. strikes hit essential grain silos in Manbij. If these missteps are not remedied by direct humanitarian assistance and a correction of the air campaign's implementation, the humanitarian situation will only worsen as the population faces the hardship of winter.
The U.S.-led counterterrorism mission has come at a great cost to the Syrian people. If such indiscretion continues, the United States risks alienating the entire region. In order to pursue the interests of the United States and the Syrian population, U.S. policymakers must coordinate air strikes with vetted opposition fighters to minimize the risks of striking sensitive elements of Syria's critical infrastructure. The United States should not view the protection of civilians as a distraction to its strategic aims. Instead, the protection of civilians is essential to the anti-ISIS and anti-extremist mission. The United States must take direct actions to ameliorate the humanitarian catastrophe that has been further amplified by the strikes. Without such steps, the air campaign will prove counterproductive and will inject further instability into the conflict in Syria.