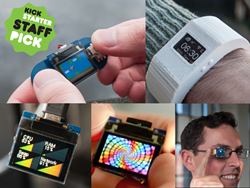 With millionsof people now involved, the open hardware community is where the most innovative products are starting toemerge from.
Akron, Ohio (PRWEB) October 16, 2014
TinyCircuits today announced a major expansion to its TinyScreen crowdfunding campaign on Kickstarter, adding dual screen support and new expansion capabilities. TinyScreen, a thumb-sized color display that plugs into the TinyDuino platform, allows consumers to create a limitless number of DIY electronics gadgets, including smart watches, smart glasses, video players and wearable electronics. Only halfway into its month long Kickstarter campaign TinyScreen has raised over 600% of the initial goal amount.
DIY electronics, which in the past would have been relegated only to electronic hobbyists, have matured to the point where they are now making inroads into the mainstream consumer audience.
"Modular electronics have really taken off like crazy over the past 5 years", says Ken Burns, Founder and President of TinyCircuits. "These new electronics platforms are making it simple for consumers to create something exactly tailored for their needs."
The Raspberry Pi - a low cost open source computing platform, recently surpassed 3 million units shipped in June of 2014. And the Arduino platform, originally designed for students in Italy, has grown into an ecosystem of hundreds of companies supplying different variants to millions of users.
"TinyScreen takes this ease of use to another level", say Burns. "It's based on Arduino, but in a very small package that allows consumers to create their own internet connected and wearable electronic devices in a way never before possible."
The open electronics movement that the Arduino and TinyScreen are part of is highly community and collaboration driven. Any of the users of the technology are free to modify it, improve it, and create commercial products from it, as long as they contribute the changes back to the community. "It's the ultimate innovation model", says Burns. "An extremely fast and dynamic cycle where so many different people are using technology, modifying it for their purposes, then releasing that back to the community to be modified again by someone else. With millions of people now involved, the open hardware community is where the most innovative products are starting to emerge from."
But does the rise of DIY electronics signal the end of consumer electronics dominance by giants like Apple and Sony? "It's not impossible", says Burns. "The open software movement predates the open hardware movement by about 20 years, which gave rise to major open software systems like Linux, Android and Apache, which are major players in the desktop, server, mobile and internet markets. Open Hardware is still at it's infancy, but growing up fast - more and more companies are starting to build products based on open hardware and its impact is being felt more by the day."
TinyScreen is part of the TinyDuino system from TinyCircuits, and is active on Kickstarter until October 25, 2014.