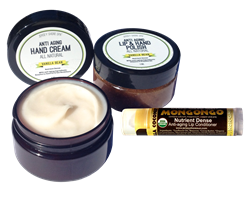 Flemington, NJ (PRWEB) October 23, 2014
Jersey Shore Cosmetics, a leading provider of 100% all-natural and toxin free skincare and cosmetics, is pleased to unveil a trio of beauty products that target two areas that take a beating in the cold weather - your hands and lips. The cornerstone to this trio is the Mongongo Anti-Aging Nutrient Dense Lip Balm that has already reached close to the 1 million mark in sales this year. The Mongongo Lip Balm, the All Natural Anti-Aging Lip & Hand Polish, and the All Natural Anti-Aging Hand Cream all work together to nourish and hydrate hands and lips leaving them silky smooth.
The Mongongo Anti-Aging Nutrient Dense Lip Balm leaves freshly polished lips silky, smooth, nourished and hydrated. Made with anti-aging mongongo oil, (which contains calcium, magnesium, zinc and iron) rosemary extract, calendula extract, and vitamin E, this lip conditioning balm is packed with powerful antioxidants and combats against premature aging, for younger, smoother looking skin. ($5.50 / .15 oz)
The Anti-Aging Lip and Hand Polish is formulated with Vanilla absolute, natural brown sugar, and nutrient dense essential oils that exfoliate and condition the skin, leaving it silky smooth, moisturized and young looking. It tastes as good as it smells because there are no petrochemicals and no artificial ingredients. ($25 / 1 oz)
The Anti-Aging Vanilla Bean Hand Cream is formulated with healthy, nutrient dense all natural ingredients like red raspberry seed oil, sea buckthorn oil, vanilla absolute, vitamin E and CoQ-10 to help combat against premature aging and soften and hydrate for healthy, younger looking skin. ($25 / 2 oz)
"I formulated this trio of products to pamper and hydrate two of the most overlooked areas," said Jacquelyn Quattro, Founder and CEO of Jersey Shore Cosmetics. "After regular use, you'll notice softer, smoother lips and hands. Your skin will feel nourished and pampered. Just in time for the early holiday shopping season, we're offering a discount code (SUPERIOR - valid until 12/31/14) for 30% off the entire website. This trio is the perfect stocking stuffer."
All of Jersey Shore Cosmetics products are highly concentrated. Only a little is needed to get effective results. Jersey Shore Cosmetics is top rated by the Environmental Working Group. (EWG.org), PETA certified, reef friendly, and cruelty-free. Available at http://www.jerseyshorecosmetics.com and at Whole Foods Market, Princeton, NJ, Fabriq Spa, Philadelphia, PA, and Big Bear Health Market, Pennington, NJ.
About Jersey Shore Cosmetics
New Jersey Mother, Housewife and Cosmetics Veteran, Jacquelyn Foster Quattro created Jersey Shore Cosmetics and its brands to show her love of her home state. She was inspired by the beauty of her beloved Jersey Shore beaches to create a toxin-free skincare line that represents the natural beauty found in New Jersey. Jersey Shore Cosmetics is a family owned and operated company founded with a mission to provide the highest quality personal care and beauty products that are safe and free of petrochemicals. All of our products are developed with love by Jacquelyn and created with the utmost care to use the best ingredients. She works with her chemists and formulators on the formulation of each product to find the healthiest ingredients that will deliver the best results. Our products are paraben-free, phthalate-free, sulfate-free and petrochemical free. We formulate using essential oils, natural fragrances, plants and botanicals and no artificial colors. We use recyclable packaging and are never tested on animals. Our products are eco/reef friendly, baby safe and cruelty-free. For more information please visit http://www.jerseyshorecosmetics.com or call (908) 500-9954.
For media inquiries, contact Dana Hill at dana(at)divine-marketing(dot)com.