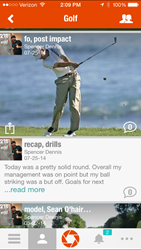 I'm now sharing tips and drills with everyone in the broader Sea Pines Golf community via Edufii
San Luis Obispo, California (PRWEB) October 16, 2014
Edufii Inc., the social/mobile platform for skill development, today announced that it has launched TrainingSpaces for Teams. The free service brings sports to the cloud by serving as a centralized hub for training content and collaboration. The launch follows the public rollout of TrainingSpaces tailored for individual athletes in August.
"TrainingSpaces for Teams revolutionize the way teams collaborate and improve," said Spencer Dennis, Edufii CEO & Co-Founder. "From a Sunday golf group, to a traveling softball club, to a university soccer team, to major sports academies and the big leagues, the Team TrainingSpace makes it easy to share and collaborate around goals, drills, schedules, photos, videos, and words of encouragement … all the things that pull a team together without the distractions of traditional social media."
The Golf Learning Center at Sea Pines Resort is one of the first premier organizations to launch its own Team TrainingSpace. This TrainingSpace delivers world-class training content to the organization's entire golfing audience, empowers golfers to engage directly with the coaching staff and extends the Sea Pines experience beyond the physical training facility to all corners of the globe.
"TrainingSpaces were a big hit with my private clients," said Tim Cooke, the Director of Golf Instruction at Sea Pines Golf Learning Center. "They made such an impact on the coach/athlete relationship that I extended to the program to all of our coaches. Now, with Team TrainingSpaces, I'm sharing tips and drills with everyone in the broader Sea Pines Golf community via Edufii," added Cooke, one of Golf Digest's Best Young Teachers in America. Connect with Tim and experience the complimentary Golf Learning Center TrainingSpace for yourself here: https://edufii.com/i/71f3f96479
Edufii's sports cloud platform and mobile apps are used by thousands of top Coaches and Athletes in more than 30 sports in 70 countries. The service is free and is available at http://www.edufii.com and in the Apple App Store and Android Play Store.
About Edufii. Headquartered in San Luis Obispo, California, Edufii Inc. is fundamentally changing the efficiency and accessibility of skill development with its cloud based platform. The free Edufii mobile apps allow coaches, teachers and their athletes to easily capture key moments during a coaching session using their mobile phone or tablet. Its intuitive interface enables video, voice notes, photos or files to be sent to the cloud to create a familiar social media timeline. Athletes can also invite additional members into their networks, such as parents or other Coaches, to further support collaboration and accountability. The result is a real-time, actionable training journal—the TrainingSpace. It is like a combination of Facebook, YouTube, Dropbox, and video analysis, purpose built for developing skills. It delivers a focused training hub for Athletes and saves Coaches hours a day managing media and messages across platforms. For more information, please visit http://www.edufii.com.