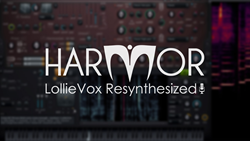 Unique resynthesized vocals for Harmor
(PRWEB) October 18, 2014
ABOUT THE PRESET PACK
The preset pack works with the Harmor additive/subtractive synthesizer plugin.
LollieVox Resynthesized includes 95 four-bar vocal phrases, sung by Laurie Webb, and allows users to play them in real time on their keyboard or from the piano roll in any pitch, chord or tempo.
Vocals can be manipulated using the acclaimed Harmor synthesis and FX engine in ways not possible with conventional samplers or pitch editors.
Formant correction and time-stretching are performed automatically, in real-time, so notes will not create the 'chipmunk effect' or increase or decrease their speed, unless users want them to.
Vocal phrases automatically sync to project tempo and bar time or can be set to restart on each note as with normal samplers. Per note X and Y modulation in FL Studios piano roll allows users to control vocal phrase start positions or formant shift individual notes. Lower the formant to create masculine vocals or raise it to make them sound like a child. Apply custom vibrato at any time by automating the depth and speed parameters.
Drag and drop any of the 95 pitch flattened source vocal samples onto any one of 25 special Harmor presets giving 2375 possible combinations. Presets include robotic vocoding, sustained pad sounds or mutated formants.
PRICING
$39 USD from the Image-Line Shop.
Established in 1994, Image Line Software provides high quality music applications to the computer-based music community and is well-known for its leading digital audio workstation FL Studio (formerly FruityLoops), FL Studio Mobile for Android and iOS; high-quality synthesizers including Autogun, DirectWave, Drumaxx, Groove Machine, Harmless, Harmor, Morphine, Ogun, Poizone, Sakura, Sawer, Slicex, Sytrus and Toxic Biohazard. Innovative effect plugins including Gross Beat, Hardcore, Maximus, PitCher & Vocodex; and finally, a wide range of sample libraries used in their multi-sampler plugins DirectWave and Soundfont Player. Image-Line also produces the acclaimed DJ mixing software application Deckadance. In addition to its audio software, Image Line Software develops and distributes the web site building application, EZGenerator.
For more information, please contact:
Scott Fisher, Communications Manager
Image Line Software
E-mail: press(at)image-line(dot)com
# # #