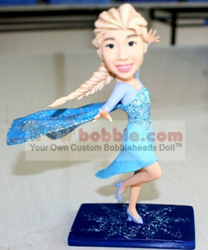 (PRWEB) October 16, 2014
Recently, WowBobble.com, a professional company of high quality figurines, has unveiled its latest collection of funny bobbleheads. These fresh products are all created by the company's experienced designers; they feature interesting and vivid looks. Also, most of them are made according to the latest trends.
"We are very happy to add the new items to our online category. Nowadays, online shopping is becoming more and more popular in the market. This is why we pay closer attention to online services. Now, we are offering big discounts for the new products. Customers can get a fully customized bobbleheads at only $69. If you want to order a great figurine, just feel free to talk to our online staff," the company's chief executive officer says.
Additionally, all the company's old and new clients can get a $10 discount coupon (coupon code: 10USDOFF) before December 15. The company promises that all people can get high quality items without any hidden costs. In addition to bobbleheads, WowBobble.com also provides many special gifts.
For years, WowBobble.com has insisted on helping worldwide customers to create the best figurines. All items from the company are handpicked by skilled workers. According to the CEO, most of the company's products are warmly welcomed by clients from all over the world.
About WowBobble.com
WowBobble.com is a professional manufacturer and retailer of interesting bobbleheads. The company is provided worldwide customers with a huge selection of funny items, including wedding bobblehead cake toppers, bridesmaid bobbleheads, fully-customized bobbleheads and so on. The company wants to offer all kinds of great bobbleheads for new and old clients.
For more details about its new items, customers can visit: http://www.wowbobble.com/.