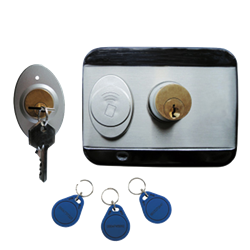 (PRWEB) October 16, 2014
Locks-Magnetic.com, a leading supplier of magnetic locks, has recently announced its big sale for single door magnetic locks. All its old and new clients can access a discounted rate, up to 35 percent off, when they order single door magnetic locks online. The promotion will last until the end of October.
The most recommended items in this range are the 60KG Magnetic Lock, 280kg (600Lbs) Single Door Magnetic Lock and 70KG Single Door Magnetic Mini Lock. The company checks and re-checks the ready-made door lock products before shipment.
The company's senior spokesman states, "We are proud to offer the cheap single door magnetic locks for worldwide clients. By offering these affordable items, we sincerely hope to build up a long-term relationship with worldwide distributors. All the magnetic locks are featured with high quality materials. Locks-Magnetic.com is famous in the current market for its advanced technology and strict quality control."
Some details of the company's 500 KG Magnetic Locks are as follows:
Lock Size: 265Lx73Wx40H(mm)
Armature plate: 185Lx60Wx13H(mm)
Holding Force: 500kg(1200Lbs)
Voltage: DC12V or DC24V+10%
Current Draw: 12V/420mA 24V/210mA
Signal Output: Dry Contact,Max Rating of Contact Current 3A
LED;Red indicates the door is unlock, Green indicates the door is lock
Suitable for:Wooden door, Glass door, Metal door, Fireproof door
Surface Temp:≤+20℃
Operating Temp:-10~+55℃(14-131F)
Suitable Humidity:0~95%(non-condensing)
Finishes for Shell:Anodized aluminum
Finishes for Magnetic:Zinc
Finishes for Armature:Zinc
Weight:4.5kg
About Locks-Magnetic.com
Locks-Magnetic.com is a leading online store of high quality magnetic lock products. With an aim of offering the most affordable and convenient products, the company often announces new innovative products. In addition, it launches big promotions at its one stop website frequently. Customer service is the top priority of this professional supplier.
More details about the company and its high quality products can be found at http://www.locks-magnetic.com/Magnetic/.