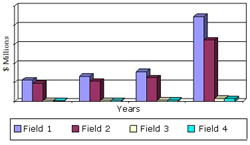 Global Market for Nanoparticles in Biotechnology and Pharmaceuticals to Reach $79.8 Billion by 2019
(PRWEB) October 16, 2014
BCC Research (http://www.bccresearch.com) reveals in its new report, NANOPARTICLES IN BIOTECHNOLOGY, DRUG DEVELOPMENT AND DRUG DELIVERY, the global market for nanoparticles in biotechnology and pharmaceuticals is expected to reach $79.8 billion in 2019, with a compound annual growth rate (CAGR) of 22% for the period 2014 to 2019. Drug delivery systems segment is surging at a significant CAGR of 23%.
The development of nanoparticles and their rapid incorporation into the research and development, formulation and production of drug products has given rise to a new area of biotechnology and pharmaceutical research involving particle materials in the nanometer size range. The biggest increase will come in the area of drug delivery systems. As products complete clinical trials and gain U.S. Food and Drug Agency (FDA) market approval, the revenues from these products are anticipated to grow at 23% CAGR.
The methods for producing nanoparticles vary depending on the starting substrate materials and the size particle desired as an end product. At present, the U.S. holds the largest number of patents in the nanoparticle area. This is largely due to the early commercialization of some nanoparticle products by U.S. companies. Europe is the second-largest market for nanoparticle drug technology. Drug formulation and delivery is attracting new players in Europe, and this in turn will contribute to the market's development.
"A number of FDA-approved drugs are delivered using one form of nanoparticle, the liposome. There are several nanoparticle-related drug delivery systems in the pipeline of a number of major pharmaceutical companies," says BCC Research biotechnology analyst Jackson Highsmith. "Clinical trials are in progress on some of these developments. There is potential in this technology for the successful development and application of future nanotech products to diagnose and treat various diseases."
NANOPARTICLES IN BIOTECHNOLOGY, DRUG DEVELOPMENT AND DRUG DELIVERY provides a comprehensive and global analysis of the market for nanoparticles in the life sciences. Existing drug products and potential drugs in the pipelines of the major pharmaceutical players in this market are reviewed. It also seeks to address the critically important topics of analyzing and changing market dynamic, emerging players and products, and strategies for accessing emerging markets
Editors and reporters who wish to speak with the analyst should contact Steven Cumming at steven.cumming@bccresearch.com.
About BCC Research
BCC Research publishes market research reports that make organizations worldwide more profitable with intelligence that drives smart business decisions. These reports cover today's major industrial and technology sectors, including emerging markets. For more than 40 years, we have helped customers identify new market opportunities with accurate and reliable data and insight, including market sizing, forecasting, industry overviews, and identification of significant trends and key competitors. We partner with analysts who are experts in specific areas of industry and technology, providing unbiased measurements and assessments of global markets. Our clients include the top companies in industries around the world as well as universities, business schools, start-ups, consulting firms and investment companies. BCC Research is a unit of Eli Research LLC. Visit our website at http://www.bccresearch.com. Contact us: (+1) 781-489-7301 (U.S. Eastern Time), or email information@bccresearch.com.
Data and analysis extracted from this press release must be accompanied by a statement identifying BCC Research LLC, 49-2 Walnut Park, Wellesley, MA 02481, Telephone: (+1) 781-489-7301; Email: editor@bccresearch.com as the source and publisher. Thank you.