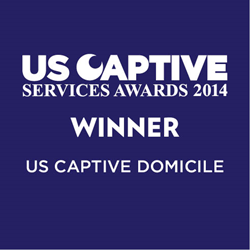 Our staff is the best in the business and we hear it often from the people who rely on them for good service and knowledgeable counsel in managing their captive operations.
Montpelier, VT (PRWEB) October 16, 2014
The State of Vermont has again been awarded the top U.S. Domicile for "outperforming their competitors and demonstrating the highest levels of excellence over the past 12 months." This is the second year that the State of Vermont has been honored with this award, which was presented by Captive Review Magazine during the U.S. Captive Services Awards on October 6 at the Westin Chicago River North. The ceremony was attended by more than 200 captive management professionals. The award was chosen by eleven judges who were all U.S. based captive owners or Risk Managers selected by Captive Review Magazine, which is based in London, England.
"Our staff is the best in the business and we hear it often from the people who rely on them for good service and knowledgeable counsel in managing their captive operations," said Vermont Governor Peter Shumlin. "Congratulations to Vermont's hard-working staff."
"Vermont continues to work hard to keep its reputation as 'the gold standard' of domiciles," said Dan Towle, Director of Financial Services for Vermont. "Vermont had another outstanding year including reaching a significant milestone, with the licensing of the 1000th captive and growing the number of Fortune 100 captives, from 42 to 48."
The past year the State of Vermont also increased its leading number of Risk Retention Groups (RRG) and gross written premium for RRGs to make up 61% of all RRG gross premium written. This is now more than seven times its next closest competitor. Overall gross written premium for all of Vermont's captives exceeded $27 billion, also more than any other domicile in the world.
Dave Provost, Vermont's Deputy Commissioner of Captive Insurance was also recognized by Captive Review Magazine in 2013 as "the most influential person in captive insurance," adding another award to Vermont's list of achievements.
"We have never rested on our laurels in the quest to better operations and increase efficiency through firm, yet flexible regulation," commented Provost. "This top U.S. Domicile for Captive Insurance award is in part a reflection of that commitment."
Vermont has continued to take a leadership role in all areas of captive insurance by adding two significant and unique additions to its captive legislation. One added an optional dormant status for captives that plan to temporarily stop writing business. The other established a mechanism for captives to create separate accounts.
Vermont has also assumed the leadership role regarding the current issues concerning the Non-Admitted Reinsurance Reform Act; including supporting legislation introduced this year in the U. S. Senate and House of Representatives by Vermont Senator Patrick Leahy and Vermont Congressman Peter Welch. The legislation clarifies a provision in the act to ensure that captives in Vermont and around the country can continue to operate in the same way that they have for decades.
Captive insurance is a regulated form of self insurance that has existed since the 1960's, and has been a part of the Vermont insurance industry since 1981, when Vermont passed the Special Insurer Act. Captive insurance companies are formed by companies or groups of companies as a form of alternative insurance to better manage their own risk. Captives are typically used for corporate lines of insurance such as property, general liability, products liability, or professional liability. Growth sectors of the captive insurance industry include professional medical malpractice coverage for doctors and hospitals, and the continued trend of small and mid-sized companies forming captive insurance companies.