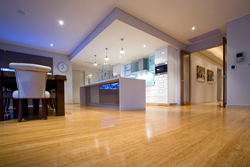 (PRWEB) October 17, 2014
Recently, BamboofloorChina.com, a well-known bamboo product supplier, has updated its product line with a new selection of click strand woven bamboo floors. From today until the end of October, all the company's clients can enjoy a discounted price when they are placing orders on its website.
The current price cut is up to 30% off. As one of the biggest players in the bamboo industry, BamboofloorChina.com feels obligated to offer high quality items. The company's major officials understand the importance of its products and hold that responsibility with the utmost seriousness.
Despite the low rates, its products are as good as those from a retail shop. "We are happy to unveil the new selection of click strand woven bamboo floors. On our website, clients find a wide variety of cost-effective items; they are made with natural materials. We want to provide worldwide customers with the most affordable items. Also, I believe our promotional floors will exceed customer expectation," the company's sales manager says.
What's more, BamboofloorChina.com is striving to create more useful products. In addition to click strand woven floors, worldwide customers can also access the other cheap items of the company. People can gain more information on its website (http://www.bamboofloorchina.com/). All its products are made according to the newest quality standards; they are guaranteed to be great.
About BamboofloorChina.com
BamboofloorChina.com is an experienced manufacturer and retailer of elegant bamboo products. The company is offering a wide variety of useful items for its clients, including plywoods, strand woven floorings, lumbers, outdoor deckings and fences. The supplier hopes to facilitate worldwide people by providing all kinds of high quality bamboo items.
For more details about the company and its new items, customers can visit: http://www.bamboofloorchina.com/products/click-strand-woven-bamboo-flooring.html.