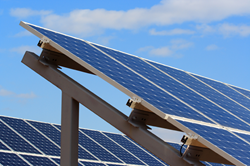 NC Continues to Offer Solar Investors some of the highest returns.
Asheville, NC (PRWEB) October 16, 2014
It's no secret that North Carolina is the hot bed for solar farm development and deals in that state are usually sought after hard by large investors of all types seeking to invest hundreds of millions in renewable energy. NC is unique in that the renewable energy deals in the state offer many incentives that make these solar farm investments some of the best in the country. Investors in NC solar farms realize returns from the following, 30% Federal Tax Credits, 35% NC Tax Credits, Accelerated Depreciation and of course the revenue from the yearly sale of the electricity to the utility company via a purchase power agreement.
Innovative Solar Systems, LLC is one of the largest developers of solar farms in NC with a 2014-2015 portfolio of approximately 1 Gigawatt of projects. Company CEO and spokesman John Green stated in a recent interview that ISS will be at the Solar Power International (SPI) trade show during the week of October 20, 2014 will a goal of selling the company's existing 300MW of shovel ready solar farm projects. In order for investors to realize all of the incentives for maximum returns including the NC Tax Credits construction needs to start soon on these great projects stated Green in a recent call. ISS is commonly seeing both the Tax Investor as well as the pure debt sponsor receiving double digit returns on current NC solar farm deals.
ISS has many recently approved utility scale solar farm projects available including several 35MW projects, a 40MW, a 50MW and an 80MW project. Many clients choose to purchase the larger scale solar farm projects like these so that both hard and soft projects costs can be greatly reduced thus improving the solar investors return in a significant fashion. ISS also shared that the company is doing more business with European entities these days since renewable energy is a trusted investment oversees but due to fact that Europe and Asia are built out now, many of these groups seek to invest in U.S. solar projects. Call Innovative Solar Systems, LLC today at (828)-215-9064 to inquire about current projects for sale or find the company this year at SPI.