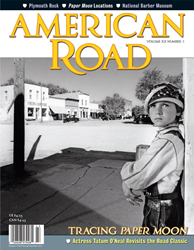 Detroit, Michigan (PRWEB) October 22, 2014
AMERICAN ROAD® set out to compile a "Rock, Paper, Scissors"-themed issue—just to see how many intriguing destinations would be placed on the pages. In addition to inspiring an extensive compendium—which sees AMERICAN ROAD® visiting places such as Massachusetts' Paper House, the Wall of Scissors at Maine's Sardine Museum, and the Ghost Town of Granite in Montana—the motif provided the opportunity to trace the making of the 1973 film PAPER MOON. Classic film fans know that the movie was shot entirely on the road in Kansas and Missouri. AMERICAN ROAD® cuts to the chase and revisits PAPER MOON locations that made make-believe—under a canvas sky. Then Academy Award winner Tatum O'Neal shares her memories of the movie-in-the-making in an exclusive AMERICAN ROAD® interview.
And AMERICAN ROAD® department editors wander through Wisconsin's Paper Valley, check into California's rocky Madonna Inn, and shave away some time at Ohio's National Barber Museum and Hall of Fame. Finally, this issue revisits Joseph Parmley's 1915 drive to route his cross-country Yellowstone Trail east to Plymouth Rock. Readers will find it all inside—truly printed on recycled paper. AMERICAN ROAD® hopes this issue earns a thumbs-up.
In honor of this issue, AMERICAN ROAD® even endeavored to draw a motorists' version of Rock, Paper, Scissors—something such as Windshield, Squeegee, Hitchhiker or Brake Pedal, Right Turn, Fork in Road. But the staff decided to leave that last task to readers. Every way AMERICAN ROAD® shakes things out, the Driver always wins.
About AMERICAN ROAD®
AMERICAN ROAD® is an award-winning periodical published quarterly by Mock Turtle Press, distributed internationally by Disticor, and now available at newsstands and fine bookstores. AMERICAN ROAD® also offers a digital edition and an iTunes app for the iPad.
Americanroadmagazine.com provides the visitor with tools to discover that hidden landmark and make new memories on the road less traveled. Readers will find sponsored downloadable trip itineraries that make travel planning a breeze, as well as the AMERICAN ROAD® Forums—the ultimate road trip community.
To preview the current issue, visit http://americanroadmagazine.com/previewmag.html.