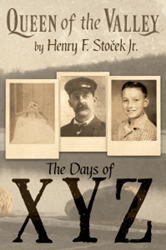 One of Deep River's most fascinating tales was that of the gang of bank robbers thwarted by Cap Tyler with a 12-gauge sawed-off shotgun in 1899.
NORTH TROY, Vt. –
(PRWEB) October 16, 2014 -- In the 1950s, Deep River, Conn., was a small New England town much like any other: clannish, distrustful of outsiders and full of stories passed from generation to generation through backdoor gossip or meals around the family dinner table. One of Deep River's most fascinating tales, retold in this new novel, was that of the gang of bank robbers thwarted by Cap Tyler with a 12-gauge sawed-off shotgun in 1899. The death of one of the robbers, known only as XYZ, and the subsequent annual visits to his grave by a mysterious Lady in Black haunted the imagination of the author and his friends, who discussed the woman's identity and her motives for her faithful visitations endlessly, spooking themselves into sleeplessness.
The events of that fateful night in 1899 were the culmination of months of planning by the criminals as well as the police detectives hot on their trail. The head of the criminal gang, Vanderkuyper, was the mastermind, a thug and a murderer who proved to be slippery as an eel. He was joined by Philemon King, Dervey Johnson and the unfortunate Frank Howard, the man who would be buried in the grave marked XYZ. These desperate men were tailed by the brilliant detective Sean O'Conner, whose determined tracking of the gang allowed him to give the leaders of Deep River's bank the notice that they were being targeted, thus ensuring that Cap Tyler was in place on the night of the robbery.
The events of the night lived on in the memories of all involved as well as in the collective memory of the citizens of Deep River, and the mystery of the woman clad in head-to-toe black who visited the grave of the slain burglar caught the imagination of the residents as well. "Queen of the Valley" is an engaging tale of intrigue and mystery that unravels the century-old enigma and captivates readers.
Author Henry Stocek uses his own personal experience and his in-depth historical research to re-create events that led up to one of his hometown's most infamous nights. Stocek graduated with a bachelor's degree in fine arts from Trinity College in Hartford, Conn., and went on to earn a master's degree at Drury College (now Drury University) in Springfield, Mo. Stocek is a retired teacher, now living in Vermont with his wife. This is his first novel.
----------
For additional information, please visit http://www.queenofthevalleybook.com
Queen of the Valley
Henry Stocek
Dog Ear Publishing
ISBN: 978-1-4575-2834-7 316 pages $16.95 US
Available at Ingram, Amazon.com, Barnes & Noble and fine bookstores everywhere.
About Dog Ear Publishing, LLC
Dog Ear Publishing offers completely customized self-publishing services for independent authors. We provide cost-effective, fast, and highly profitable services to publish and distribute independently published books. Our book publishing and distribution services reach worldwide. Dog Ear authors retain all rights and complete creative control throughout the entire self-publishing process. Self-publishing services are available globally at http://www.dogearpublishing.net and from our offices in Indianapolis.
Dog Ear Publishing – self-publishing that actually makes sense.