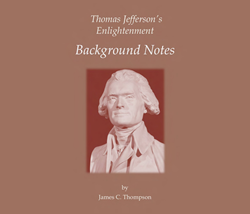 "I like the way the author handles Jefferson without diminishing him. He makes the point that his level of political thinking was not as deep as France's philosophes. But, hey, Americans were "rustics" by comparison."
(PRWEB) October 21, 2014
Trained as a philosopher, James Thompson is an explorer in the world of Ideas. In "Thomas Jefferson's Enlightenment – Background Notes," he discusses the ideas and the men who modernized France. In his first seventeen essays, he resets the stage on which Thomas Jefferson performed during the five years preceding the storming of the Bastille. Mr. Thompson excels at connecting the dots. In this case, the dots are a collection of neglected relationships, forgotten encounters, and private conversations with high purposes. Mr. Thompson weaves them into a three-dimensional picture of pre-revolutionary France. Readers find themselves with him there, not looking back from here. They meet a cadre of brilliant men who are strangely disconnected from the world around them. They watch as these reform-minded progressives embrace implausible solutions to France's insurmountable problems. In the process, they become immersed in a reality that dissolved on 14 July 1789. For James Thompson, "being there" is watching men interact while hearing crowd noise, smelling sewage, and jostling through congested streets. In his small book, he raises the curtain higher on this new historiography. To understand the past, he says, one must know why people did things at particular moments. In these seventeen essays, the author shows his readers what Jefferson and his friends were doing and why they did it.
In his closing essay, Mr. Thompson reconstructs the two hundred year process in which Jefferson's admirers and scholarly Jeffersonians transformed an important historical person into a monumental symbol. The time has come, he believes, for Thomas Jefferson to become a real person again and for written histories to explain what people in the past thought they were doing, not what today's scholars think they should have been doing.
About the Author:
James Thompson studied Philosophy as an undergraduate and graduate student at the University of Virginia in Charlottesville, Virginia. As a graduate student, he lived on the farm of Thomas Jefferson's eldest daughter, Martha Jefferson Randolph. During his four years there, he began what has been an ongoing investigation into "the philosophy" of Thomas Jefferson. Mr. Thompson developed an interest in the History of Ideas teaching courses in Philosophy, Religion, and Ethics and Western Civilization at Strayer University in Alexandria, Virginia. He completed his first book, "Beyond the Veil of Reason - Thomas Jefferson's Early Political Initiatives," as a Batten Fellow at the Jefferson Center for International Studies at Monticello. Commonwealth Books of Virginia published "The Birth of Virginia's Aristocracy" in 2009 and "The Dubious Achievement of the First Continental Congress" in 2011. "The First Revolutions in the Minds of the People" will be released in the fall of 2014. The release date for "George Washington's Indispensable Man – Who is Will Lee" has not yet been finalized.
About Commonwealth Books of Virginia:
Commonwealth Books of Virginia's motto, "Where History, Philosophy, and Art Meet", underscores the three-dimensional quality of the histories it publishes. It uses state-of-the-art technology to transform its printed titles into families of products including ebooks, audio books, audio/video programs, and mobile devise applications. It advertises its authors and products in a program that coordinates traditional public relations with social media outreach. Its print and e-book editions are distributed by Small Press United of Chicago and its online affiliates. Its audio, audio-video, and video products are available through Amazon, Audible, and iTunes, and their global partners.
Thomas Jefferson's Enlightenment – Background Notes By James C. Thompson
American History/Biography
ISBN (Paperback): 978-0-9904018-1-0 / ISBN (Ebook - Kindle): 978-0-9904018-2-7 / ISBN (Ebook - EPUB) 978-0-9904018-3-4 / ISBN (Ebook - PDF) 978-0-9904018-4-1 /
Paperback Edition: 120 pages $12.00 / Electronic: $5.95
Release date: November 20, 2014