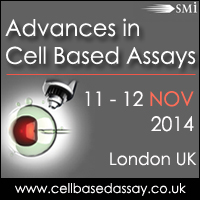 London, UK (PRWEB UK) 16 October 2014
Advances in Cell Based Assays 2014 will aim to provide progressive insights into areas such as 3D cultures, stem cells, label free technologies and phenotypic screening, when the 7th annual event returns to London this autumn. This event will feature 18 case study driven presentations, speakers representing both industry and academia, 2 interactive workshops and 3+ hours of networking.
Highlights this year include an academic led focus session on the application of 3D Cultures.
Attendees will be invited to hear Dr Dusko Llic MD PhD, Reader in Stem Cell Science from Kings College London, introduce 3D cell culture in oncology research. The address will discuss the first lab grown epidermis as an efficient and cost effective alternative to drug and cosmetic testing, the use of human and pluripotent stem cells and skin barrier models.
This will be followed by a presentation by the Karolinska Institutet Professor, Section Head and Vice Chairman, Dr Magnus Ingelman-Sundberg. The talk entitled: 3D cell culture developments in technology to improve in vitro analyses will review key developments in 3D cell culture and explore the latest technologies essential for pharmaceutical research.
A full programme and speaker line-up is available to download at http://www.cellbasedassay.co.uk
For those who are interested featured event content is available to read in the event download centre at http://www.smi-online.co.uk/pharmaceuticals/uk/conference/cell-based-assays?tab=downloads
Advances in Cell Based Assays
11th - 12th November 2014
Marriott Regents Park Hotel, London, UK
http://www.cellbasedassay.co.uk
Sponsored by Medicyte and Sigma-Aldrich
About SMi Group:
Established since 1993, the SMi Group is a global event-production company that specializes in Business-to-Business Conferences, Workshops, Masterclasses and online Communities. We create and deliver events in the Defence, Security, Energy, Utilities, Finance and Pharmaceutical industries. We pride ourselves on having access to the worlds most forward thinking opinion leaders and visionaries, allowing us to bring our communities together to Learn, Engage, Share and Network. More information can be found at http://www.smi-online.co.uk