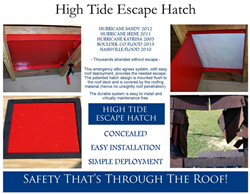 Nearly 25% of all National Flood Insurance Program claims are from homes mapped outside of high-risk flood areas.
Port Neches, Texas (PRWEB) October 20, 2014
In 2012, Hurricane Sandy, a category two storm, hit Haiti, Jamaica, Cuba, New Jersey and New York. $50 billion preliminary damages, a death toll of 285 people.
In 2012, Hurricane Isaac, a category one storm, that hit Haiti, Cuba, Southern Mississippi and southeastern Louisiana, caused an estimated $2.35 billion in damages and a death toll of 34 people in the United States.
In 2005, Hurricane Katrina, a category three storm, cut a path through Florida, Alabama Mississippi and Louisiana. $108 billion dollars in damage with a massive death toll of 1,833 U.S citizens.
The U.S has been hit by roughly 15 additional Tropical Storms since Hurricane Katrina, surpassing $324 billion dollars in damages and affecting over twenty-four states. Tragically, many of the deaths were caused by flooding and structural collapses of buildings as people became trapped in their homes. An easily accessible escape path to the roof during these traumatic situations could have saved many innocent lives. Upon seeing the devastation and aftermath of Hurricane Katrina, a coastal inventor began working on an affordable roof escape hatch that could be installed easily into the roof of a home, but invisible from the outside, that could provide a fast and easy escape to the roof in emergency situations, and be reusable after the danger passes. After many years of research and development, Hatch Systems, LLC is proud to announce the patented High Tide Escape Hatch – the ultimate roof escape hatch for getting you and your family to the roof of your home in an emergency.
Designed to be invisible from the exterior so as to not detract from the beauty or design of your home or business, the High Tide Escape Hatch is installed under shingles and overlay material and installed between standard rafters. Since it does not penetrate the roof, there are no possible leak issues to deal with, and it is not exposed to weather or other seasonal elements. The result is a maintenance free, highly durable yet invisible addition that can prove to be life-saving in the event of extreme weather conditions or dangerous situations. Constructed of a solid steel frame and high-grade wood decking, it actually becomes part of your roof decking and a simple hand crank opens the door inwardly when deployed. By opening inwardly, the roof escape hatch eliminates the potential for storm debris to obstruct deployment. Upon deployment, roof materials are simply pushed away to create the opening to safety. You can then either remain standing in the opening or climb out onto the roof. Either way, you will no longer be trapped in your attic and can now signal for help, await rescue, or ride it out with peace of mind that you are no longer trapped.
The High Tide Escape Hatch is a life safety product designed for escape under a multitude of situations - home invasion, rising waters, or any other entrapment situation. It is important to be prepared and not assume that a flood, home invasion, or other emergency situation will never happen to you. Two million home invasions happen annually, floods have caused roughly $725 billion in damages since 2000, and there were 1,389,500 fires alone in 2011.
According to Floodsmart.gov, everyone lives in a flood zone. Nearly 25% of all National Flood Insurance Program claims are from homes mapped outside of high-risk flood areas. Chances are very high the average person will be subject to a natural disaster or home invasion more than once in his/her lifetime.
The High Tide Escape Hatch – the life safety item every home should have, but hopefully never have to use.
If you're interested in becoming a Distributor or Independent Representative please contact Jason Ford at 409-729-5558 or jford(at)hightideescapehatch(dot)com.