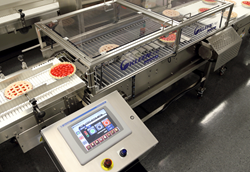 Huntington, IN (PRWEB) October 16, 2014
Shuttleworth, powered by Pro Mach, will unveil a new integrated solution for packaging and sanitary washdown applications at this year's Pack Expo Chicago 2014. Shuttleworth has integrated their stainless V-Clean Slip-Torque conveyor with a KLEENLine Lane Switch. The addition of the Lane Switch, a servo-driven plaque divider, showcases one of the many Integrated Product Handling Solutions for which Shuttleworth is known. See it in action at Pack Expo in Chicago, November 2-5, Booth N-5421.
The Lane Switch is a stainless steel sanitary washdown construction plaque divider that can divert a wide range of products from a single lane into two, three, or four lanes and route to equipment such as wrappers, case packers, cartoners, and palletizers.
Designed and built at KLEENLine, the Lane Switch integrates flawlessly with Shuttleworth's stainless V-Clean Slip-Torque conveyor with gentle product transfers and no side contact diverting at speeds up to 220 FPM.
About Shuttleworth
Since 1962, Shuttleworth® has served as a leading designer, consultant and manufacturer of product handling conveyor automation worldwide. As a conveyor solutions provider, Shuttleworth specializes in accumulation conveyors, product diverters, multi-lane conveyors, servo-controlled machine in-feeds, and high-speed sorters and combiners. Shuttleworth leads the industry in gentle product handling using its unique Slip-Torque® technology.  Shuttleworth, LLC, is located in Huntington, Indiana. Shuttleworth also operates a manufacturing facility near Gent, Belgium and maintains a sales and engineering office in Kuala Lumpur, Malaysia. Shuttleworth has been a member of the Packaging Machinery Manufacturers Institute (PMMI) since 1967. The company is certified ISO 9001 since 2008.
Shuttleworth is a division of Pro Mach, Inc., a leading provider of integrated packaging products and solutions for food, beverage, household goods, pharmaceutical, and other diverse consumer and industrial applications. Through multiple brands, Pro Mach provides equipment, training, installation and parts for bottling and capping, primary packaging, flexible packaging, material handling, end-of-line packaging, and identification and tracking. Pro Mach is headquartered near Cincinnati, Ohio, with manufacturing facilities and offices throughout the United States, Canada, Europe and Asia. http://www.promachinc.com.
For more information on Shuttleworth integrated product handling and conveyor solutions, contact Shuttleworth at: 260.359.8500, inc(at)shuttleworth(dot)com, http://www.shuttleworth.com.