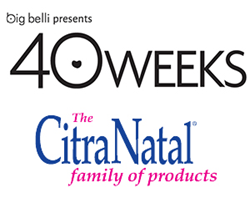 NEW YORK, NY (PRWEB) October 17, 2014
In the United States alone, more than 6 million women experience pregnancy every year. The profound changes brought on by pregnancy spur expectant mothers to seek information about what's normal, what's not, and what they can do to give their babies the healthiest starts possible.
Until now, a huge void has existed for a film to capture the entire pregnancy journey in one place and provide women with related essential health information and shared experiences. This void is soon to be filled with pregnant bellies coming to living rooms throughout America.
Big Belli, LLC, of Cliffside Park, N.J., has announced the December 2014 premiere of a trailblazing documentary called "40 Weeks." The movie, produced by a highly respected, award-winning team, gives viewers a window into the lives of various women and their families as they journey through the weekly milestones of their pregnancies.
"40 Weeks" aims to help women share pregnancy experiences and concerns and access a wealth of health information to help them Go the Whole 40™ (weeks of pregnancy) to ensure the best outcomes for mothers and babies.
CitraNatal®, a top-selling brand of premier prenatal vitamins, and Dr. Smith's® Premium Blend diaper rash products, are two of the sponsors making "40 Weeks" possible. CitraNatal and Dr. Smith's brands are manufactured in the U.S. by Mission Pharmacal Company, a third-generation, family-owned pharmaceutical company based in San Antonio, Texas.
"Big Belli's commitment to providing expectant mothers with critical information to help them have healthier pregnancies mirrors Mission Pharmacal's commitment to women's health and pediatric health," says Nancy Price, Senior Product Manager, CitraNatal, Mission Pharmacal. "Mission provides innovative, science-based products that meet the nutritional needs of women at all stages of pregnancy and an innovative program called "Join the Family" to support women throughout their pregnancy. The "Join the Family" program delivers valuable information geared to a mother's specific stage of pregnancy from conception to breastfeeding and offers generous cost savings on CitraNatal prescription products of up to $300 per year. For details about "Join the Family," please visit citranatal.com/user/register.
Optimal prenatal nutrition and vitamin supplementation are essential from the moment a woman begins trying to conceive, throughout pregnancy, and breastfeeding. Nutritional needs continue to evolve as pregnancy progresses.
Physicians can help expectant mothers select the best prenatal vitamin to meet their unique needs. It's important to choose a high-quality vitamin containing complete ingredients to optimize nutrition, including folic acid, iron, calcium, and an essential fatty acid called docosahexaenoic acid (DHA), as well as a stool softener to increase comfort during pregnancy.
"In most cases, I recommend my patients start prenatal vitamins three months prior to trying to conceive," says Dr. Mark Pillitteri, a Fellow of the American Congress of Obstetricians and Gynecologists and an OB-GYN practitioner in Deer Park, N.Y. "This consolidates nutrition and covers for any dietary deficiencies, particularly in vitamin D, iron, calcium, or folic acid.
"In particular, taking extra folic acid before getting pregnant and during the first few weeks of pregnancy helps ensure proper neural tube development in the brain, spine, and spinal column in developing embryos and may help reduce the risk of related birth defects."
DHA is a beneficial fat that plays a crucial role in brain, central nervous system, and eye development. Babies are especially hungry for DHA during the last few months of pregnancy and the first few years of life when the brain develops rapidly. Other essential nutrients include iron and calcium. Iron aids in the formation of red blood cells to support baby's rapid growth during the second and third trimesters. Calcium is an important mineral for strong bones and teeth — for both mom and baby.
The CitraNatal line includes an array of supplements enabling women and their physicians to choose the right vitamin based on a woman's particular pregnancy challenges. For example, a new, gentler prenatal formulation called CitraNatal Harmony® includes a full spectrum of essential vitamins and minerals without causing the gas and discomfort associated with some supplements.
INDICATIONS: CitraNatal Harmony®, CitraNatal Assure®, CitraNatal B-Calm®* and CitraNatal® 90 DHA are multivitamin/mineral prescription drugs indicated for use in improving the nutritional status of women prior to conception, throughout pregnancy, and in the postnatal period for both lactating and nonlactating mothers.
*CitraNatal B-Calm may be used in conjunction with a physician prescribed regimen to help minimize pregnancy related nausea and vomiting.
Important Safety Information
CONTRAINDICATIONS: These products are contraindicated in patients with a known hypersensitivity to any of the ingredients.
WARNING: Accidental overdose of iron-containing products is a leading cause of fatal poisoning in children under 6. KEEP THESE PRODUCTS OUT OF THE REACH OF CHILDREN. In case of accidental overdose, call a doctor or poison control center immediately.
WARNING: More than 3 grams total intake per day of omega-3 fatty acids from all sources, including both food and supplements (like Docosahexaenoic Acid [DHA] and Eicosapentaenoic Acid [EPA]), have been shown to have potential antithrombotic effects, including an increased bleeding time and INR. Administration of omega-3 fatty acids should be avoided in patients on anticoagulants and in those known to have an inherited or acquired bleeding diathesis.†
†CitraNatal B-Calm does not contain DHA or EPA.
WARNING: Folic acid alone is improper therapy in the treatment of pernicious anemia and other megaloblastic anemias where vitamin B12 is deficient. For more information about CitraNatal products, including full Prescribing Information and Precautions and Adverse Reactions, please visit citranatal.com.
The dual-iron formulation used in CitraNatal Harmony helps provide the iron pregnant women need, yet is gentle on the gastrointestinal system. It also offers mothers and babies essential vitamins and minerals, including 260 mg of DSM's life'sDHA®*, in one convenient, easy-to-swallow, vanilla-scented gel cap.
To make high-quality prenatal vitamins easily accessible to more women before their pregnancy, Mission Pharmacal is introducing CitraNatal® basic™, a new over-the-counter prenatal vitamin designed for pre-pregnancy nutritional support. CitraNatal basic is available exclusively at amazon.com. For more information about CitraNatal basic, go to citranatalbasic.com.

life'sDHA is a registered trademark of DSM.
About Mission Pharmacal Company
Mission Pharmacal Company is a privately held pharmaceutical company based in San Antonio, Texas. For more than 65 years, the company has been committed to meeting the unique healthcare needs of women throughout all stages of life, pediatric patients, and those persons dealing with urologic and dermatologic conditions. The company has a proven track record of identifying unmet healthcare needs and developing both innovative prescription and over-the-counter products to meet these needs. Using only the purest ingredients and FDA-approved methods of manufacturing, Mission Pharmacal provides physicians and consumers with the highest quality pharmaceutical and dietary supplement products on the market today. Mission Pharmacal is a proud national supporter of the March of Dimes Foundation®, whose mission is to improve the health of babies by preventing birth defects, premature birth, and infant mortality. For more information about the company, visit missionpharmacal.com.
About Big Belli
Big Belli is a parenting content media and social networking brand dedicated to the health and well-being of babies and moms. For expectant families Big Belli provides an emotional connection, easily digestible pregnancy information in film form, and a community of people who can share experiences and expert advice. With its first offering of the documentary "40 Weeks," Big Belli is on its way to providing moms-to-be with a comforting place to turn to during this joyous, yet stressful time in their lives.