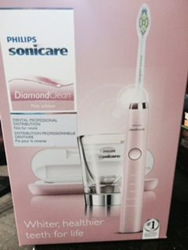 Our office is very aware of the importance of the healthiest mouths possible when it comes to people with cancer
Marietta, GA (PRWEB) October 30, 2014
Marietta Dentists, Kirk Kimmerling DDS, Suzanna Aguilera DMD and Garrick McGrath DMD have announced the winners of the 2014 Breast Cancer Pink Diamond Clean Sonicare Toothbrush Giveaway. The winners; Geralyn Chabucos and MaryAnn Pelzer-Hiller were notified to pick up the unique pink Sonicare's at the Marietta dental office.
"It's always a pleasure to be a part of Breast Cancer Awareness Month," says Dr. Kimmerling. "Our dentists and staff are very aware of the importance of the healthiest mouths possible when it comes to people with cancer."
Verde Pointe Dental Associates take special care of people with cancer. Those undergoing chemotherapy have low blood cell counts, including white blood cells that fight infection. Since a person's mouth can be an entry port to body for bacteria, it's important to have a healthy mouth. Sonicare toothbrush is an excellent tool for a healthy mouth, and they offer a soft bristled brush gentle on the gums better for those with cancer.
The giveaway is expected to continue in honor of Breast Cancer Month each October. The office wants to help women understand how important a healthy mouth is, especially when battling cancer.
Kirk Kimmerling DDS and Suzanna Aguilera, DMD are Marietta cosmetic dentists and Marietta emergency dentists that are paving the way for the future of dentistry. The office is technologically sophisticated in not only equipment and procedures, but also developing dental materials via Kimmerling Holdings Group, LLC and fiteBac SkinCare, LLC, Dr. Kimmerling's biotechnology firms. The Marietta emergency dentists invite new patients to meet their exceptional staff and experience and benefit from state of the art dental care. The office offers a broad range of services from teeth cleaning, teeth whitening, dental whitening, dental veneers and Marietta dental implants, Marietta dental veneers, and dental bridges, dental crowns, crowns and bridges, dental fillings, tooth implants and veneer Marietta and root canals.