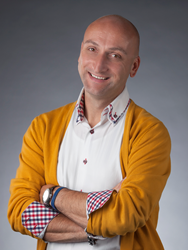 I am honored to be a member of an organization with such a rich history in customer successes.
Salem, MA (PRWEB) October 22, 2014
Rose Displays, a leading provider of visual communications signware systems, announced today that it has expanded its executive team. The company has appointed Jeffrey Hastings as Chief Marketing Officer (CMO). Hastings' extensive experience creating high performance design teams and marketing organizations will enable Rose Displays to continue to grow and evolve its business.
Before joining Rose Displays, Hastings was Senior Director of Retail Design at Vomela. Prior roles included Senior Director of Retail Design and Marketing for Pratt, as well as Director of Visual Merchandising and Promotion for Shoe Carnival.
"Jeff's experience in visual merchandising and design will bring us new perspectives that will translate into more exciting new products and more impactful marketing initiatives," said Dean Rubin, CEO of Rose Displays. "Adding Jeff to our team will help us achieve our long-term strategy of partnering with retailers to create better in-store experiences."
Hastings is responsible for leading Rose Displays' marketing strategy. Under his guidance, Rose Displays' marketing and product design teams will develop and execute a plan for building the company's future brand. The goal is to grow the business through product solutions that are technical, creative, and innovative, as well as through compelling marketing communications.
"I am honored to be a member of an organization with such a rich history in customer successes," Hastings said. "I look forward to working together with the talented team at Rose Displays to create high-impact marketing programs, along with a balanced suite of new products and design service solutions that align with our sales effort, clearly differentiate us from the competition, and strengthen our presence in the marketplace."
About Rose Displays
Rose Displays, Ltd has been delivering visual communications system solutions to industry leading brands for more than 30 years. Rose Displays is committed to providing innovative visual communications signware, merchandising systems, and interactive tablet solutions that marry elegant design, precision engineering, ease of use, flexible customization, and expert execution at retail. Learn more at http://www.rosedisplays.com.