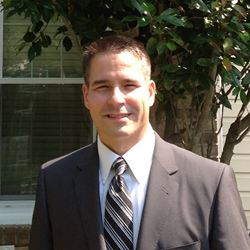 It's a wild next generation cyber world out there, and I want to help keep it secure.
Washington, DC (PRWEB) October 21, 2014
MAD Security, LLC, a premier reseller and integrator of information and network security services, has added Kevin Keast to its leadership team to serve as Vice President of Integration Services. He will be leading MAD's expanded approach to service delivery.
Kevin brings over 22 years of combined technical and operational experience from the Coast Guard, along with recent industry experience as Deputy Director of IT Enterprise Engineering supporting the Department of State and leading over 200 engineers and engineering managers. During his time as Deputy Director, he provided thought leadership and technical guidance to manage enterprise-wide technology infrastructure systems engineering and integration activities. The technology-based service lines he led included: Systems and Messaging, Data Networks, Voice Services, Security Infrastructure, Tools, and Project Management.
Keast said of his decision to join MAD: "I came to MAD because I wanted to be part of their innovative approach to providing the very best in holistic Cybersecurity to existing and new Government and Industry partners. It's a wild next generation cyber world out there, and I want to help keep it secure. I knew the awesome people at MAD from the great work they did for the Coast Guard while I was there, and I'm excited to join such an amazing group of professionals."
The addition of Kevin to the staff will fortify MAD's reputation of providing the best in security services to MAD's enterprise government and commercial customers. Kevin will also be responsible for expanding MAD's support for security services, including support for multiple product portfolios that support the Continuous Diagnostics and Mitigation (CDM) initiatives.
"Kevin is the perfect fit for MAD Security," said Dean Pace, MAD's Founder and CEO. "As a Coast Guard Commander, Kevin built a reputation as a strong technical manager and selfless servant leader. He is the exact person we need to lead our engineers and consultants.
About MAD Security
MAD Security, LLC, is a leading provider of information security solutions, services, and training. With a focus on enterprise cyber-security, MAD provides government and commercial customers with information security product solutions and services, vulnerability assessments, governance and compliance services, and customized information security training. By bringing together industry-leading technology solutions and customized training, MAD Security is uniquely positioned to bring tangible results to enterprises that want to improve their security posture. The MAD team is made up of industry-leading security experts with decades of experience designing and implementing security solutions as well as providing services and training to numerous government agencies and Fortune 500 clients.