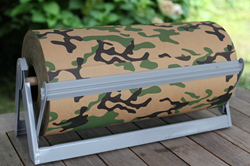 Quality FDA-Approved freezer paper is essential for the proper preservation and protection of meat for up to 12 months, and the camo print helps you distinguish different varieties in your freezer. - Alan NeSmith
Pensacola, FL (PRWEB) October 17, 2014
Paper converting company Oren International launched camouflage printed freezer paper to help hunters and meat processors distinguish different types of meat from their hunting season. The Pensacola, Florida based company is now also offering individual 18" by 130' consumer rolls of camo printed freezer paper, which are available on Amazon, in addition to the larger 15, 18 and 24 inch rolls sold by distributors.
Camo printed freezer paper helps preserve meat while distinguishing the various "trophies" earned from different trips during hunting season. It is also commonly used in butcher shops and by meat processors as an alternative to the standard white freezer paper. Camouflage printed freezer paper is a great way for hunters to wrap meat that will be given to friends and family and for processors and butchers to display and wrap meat and game. With the prevalence of the camo print in fashion this season, and boosted in popularity nationwide by shows like Duck Dynasty, the camo pattern is in demand.
"Quality freezer paper is essential for the proper preservation and protection of meat, and the camo printed paper helps you distinguish different varieties in your freezer, plus its fun," says Oren International Founder Alan NeSmith. "We just developed the new consumer size rolls, which are available on Amazon, out of demand from hunters and outdoor enthusiasts."
High-grade freezer paper is the most economical way to store meats, fish and poultry in the freezer for extended periods of time. It is specially crafted to conform to the shape of the food item being wrapped, while the poly coating zips moisture in to prevent freezer burn.
The quality grade of freezer paper that meat processors, butchers and hunters use helps ensure a freezer full of fresh venison, foul, or other game for up to twelve months. Using FDA-approved premium paper is very important and will extend freshness about three months longer than standard grade freezer paper, which preserves meat for 6-9 months. The camo freezer paper is coated with polyethylene for moisture protection on one side, and printed with a distinctive "camo" pattern on the other side.
Oren International is a paper converting company headquartered in Pensacola, FL and creates custom paper for a broad range of industries from food service and restaurants to industrial and manufacturing. Learn more at http://www.oren-intl.com.