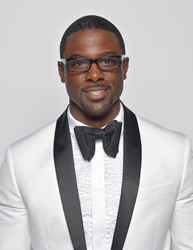 "Education is the gateway to achieving their dreams and is an important tool in paving the road to success. To represent the UNCF, to support, motivate and inspire the youth, is an investment for generations to come," stated EMT DC Host Lance Gross.
Washington, DC (PRWEB) October 16, 2014
The UNCF Empower Me Tour (EMT) presented by Wells Fargo – a free, traveling college- and career-readiness road show sponsored by UNCF (United Negro College Fund), the country's largest and most effective minority education organization – will feature television entertainer Lance Gross as host for the Tour's Washington D.C. stop at Dunbar High School on Saturday, October 25, 2014.
Celebrating its seventh year, the UNCF Empower Me Tour was created in partnership with Wells Fargo to prepare students to go to and through college and inspire them to take control of their future by using education as the foundation for achieving their goals and dreams.
The D.C. stop will feature Gross, star of Tyler Perry's award-winning "House of Payne", and graduate of Washington's historically black college/university (HBCU) Howard University, as a Tour co-host. Lance won two consecutive NAACP Image Awards in 2008 and 2009 for Outstanding Supporting Actor in a Comedy Series for his "House of Payne" role.
"I'm both honored and excited to participate in the UNCF Empower Me Tour. As a firm believer of the strength of higher education, it is a necessity to reach the youth and lead them in this upward direction," said Gross. "Education is the gateway to achieving their dreams and is an important tool in paving the road to success. To represent the UNCF, to support, motivate and inspire the youth, is an investment for generations to come."
For the D.C. Tour stop, educators and entrepreneurs will share their personal educational journeys with participating high school and college students. Attendees will participate in the Empower Me Tour Zone, an interactive experience for students, parents and educators. The Zone provides an opportunity to engage with college recruiters and to learn about scholarship opportunities. The Empower Me Tour will also provide students and their parents with a full day of exhibits, college and career workshops, and engaging panel discussions with special guests and celebrities.
"We are excited to bring UNCF's Empower Me Tour Presented by Wells Fargo to Washington," stated Meta Williams, UNCF Regional Development Director. "The Tour provides essential tools for our area's youth and supporting families to succeed in their academic pursuits, and transition into adulthood. In addition to solid academic training, it is essential that students are trained as financially-responsible citizens. Our EMT workshops and hands-on seminars offer opportunities for participants to invest in themselves and their futures. We look forward to a continued partnership with Wells Fargo and supporting sponsors in bringing our students to and through their collegiate journey, and beyond."
The day's events will include presentations from Aaron Paxton Arnold, Lifestyle Expert and Founder of MusicIsMyBusiness; political strategist Valeisha Butterfield-Jones; author and motivational speaker Dr. Alex O. Ellis; Kevin Malonson of Education is Freedom; and John W. Stewart of the C.A.R.E. Foundation. Prior Tour guests and panelists include actors Tatyana Ali and Hill Harper, journalist and social activist Jeff Johnson, and Dr. Randal Pinkett, winner of the fourth season of NBC's The Apprentice with Donald Trump.
"Wells Fargo is excited to team up again with UNCF and to bring the UNCF Empower Me Tour to Washington," said Mike Golden, Wells Fargo President in Greater Washington D.C. "We know that education is the great equalizer in our country, and it is one of our passions to ensure that students have access to higher education. This tour makes the possibility of college real to young people across the nation, by providing them and their parents with information, tools and resources that help them make informed decisions about their future. In addition, we're working to help students prepare for the job market once they graduate, and are connecting them with Wells Fargo recruiters, and providing training for the interview process."
Wells Fargo's presence in the Washington, D.C. area includes 163 bank stores and nearly 700 team members who serve customers through banking, investments, mortgage, finance and more. In 2013, the company invested more than $1.4 million in grants to nonprofits throughout Greater Washington, D.C., and team members contributed more than 2,106 volunteer hours in the D.C. area.
In addition to Presenting Sponsor Wells Fargo, Procter & Gamble and FedEx are supporting sponsors of the UNCF Empower Me Tour's D.C. stop. Created in 2006, Procter & Gamble's My Black is Beautiful (MBIB) platform was designed to spark a broader dialogue about Black beauty. Since inception, the MBIB platform has grown to 1.9 million women through various efforts, including the Imagine A Future program. Launched with support from UNCF and Black Girls Rock!, the program aims to reach and teach one million Black girls to be their best selves. For the 2014-15 Empower Me Tour season, MBIB supports the male-only "Tied to Greatness: Mastering the Power of Your Image and Manhood to Achieve Success" session, as well as the "Girl Talk: Imagine A Future" discussion for female attendees.
"Proctor & Gamble is proud to continue our partnership with UNCF and The Empower Me Tour," said Crystal Harrell, Procter & Gamble, Senior Communications Manager. "Since the launch of My Black is Beautiful's Imagine A Future program – which aims to reach and teach one million Black girls over three years – UNCF has been instrumental in helping us reach more than 760,000 to date, and empowering them to express their best and most beautiful selves."
Educational partners for the Tour are Education is Freedom and The C.A.R.E. (Careers. Academics. Recreation. Exposure.) Foundation.
For more information on the Empower Me Tour and to register for FREE, visit http://www.EmpowerMeTour.org.
About UNCF
UNCF (United Negro College Fund) is the nation's largest and most effective minority education organization. To serve youth, the community and the nation, UNCF supports students' education and development through scholarships and other programs, strengthens its 37 member colleges and universities, and advocates for the importance of minority education and college readiness. UNCF institutions and other historically black colleges and universities are highly effective, awarding 20 percent of African American baccalaureate degrees. UNCF administers more than 400 programs, including scholarship, internship and fellowship, mentoring, summer enrichment, and curriculum and faculty development programs. Today, UNCF supports more than 60,000 students at over 900 colleges and universities across the country. Its logo features the UNCF torch of leadership in education and its widely recognized motto, "A mind is a terrible thing to waste."® Learn more at http://www.UNCF.org
About Wells Fargo
Wells Fargo & Company (NYSE: WFC) is a nationwide, diversified, community-based financial services company with $1.6 trillion in assets. Founded in 1852 and headquartered in San Francisco, Wells Fargo provides banking, insurance, investments, mortgage, and consumer and commercial finance through more than 9,000 locations, 12,500 ATMs, and the internet (wellsfargo.com), and has offices in 36 countries to support customers who conduct business in the global economy. With approximately 265,000 team members, Wells Fargo serves one in three households in the United States. Wells Fargo & Company was ranked No. 29 on Fortune's 2014 rankings of America's largest corporations. Wells Fargo's vision is to satisfy all our customers' financial needs and help them succeed financially. Wells Fargo perspectives and stories are also available at blogs.wellsfargo.com and at wellsfargo.com/stories.
# # #