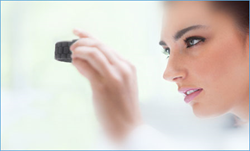 See for Yourself
CLEVELAND, OHIO (PRWEB) October 17, 2014
Micros Chip has introduced a new and innovative label solution to help combat the global problem of counterfeit products. (http://www.micros-chip.com)
The Seegram chip is a patented, innovative label technology that can replace or augment the hologram as a part of a company's anti-counterfeit strategy. Applications include luxury goods, electronics, documents and currency, credit cards and IDs, pharmaceuticals, spirits, and others.
Unlike holograms, the Seegram label can be read by the human eye, and does not require special instruments to validate. The retailer and the consumer can view the label, and buy the product with confidence.
Tom Lash of Micros Chip stated, "Many counterfeit products being sold today also have counterfeit security holograms. Because the Seegram chips have 3D-structured features that are made using semiconductor manufacturing and film molding processes, they are almost impossible to replicate. There is a substantial global patent portfolio that also protects this technology."
Micros Chip is introducing this new technology in the US, Europe, and Canada. Several large global customers in Korea have vetted and validated the technology, and are using these labels in commerce for anti-counterfeiting and brand labeling. These secure chips can be designed and sized for any application, with your unique logo and micro-text letters or icons.
When you want to verify OEM authenticity with the Seegram, just "See for Yourself."
# # # # # # # # # # # # # #
Want to Learn More and receive some samples? Contact Micros Chip for more information by calling Tom Lash at 216.303.6063, by email at: tlash(at)micros-chip(dot)com, or visit the company website at: http://www.micros-chip.com.