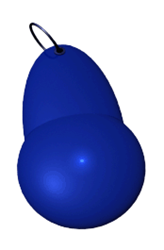 The market really, really wants this. The only problem until now has been the base tech.
Chicago, IL (PRWEB) October 16, 2014
ClearFind intends to leverage the growing popularity of crowdfunding to help launch their premier wireless locator offering which will be based upon never before commercialized military-grade technology designed exclusively for accurate, long range, indoor/outdoor radio-location.
Unlike devices based upon GPS, Wi-Fi, cellular or Bluetooth, ClearFind devices will work indoors, outdoors and at distance (up to 50km / 30 miles), even underground, while still providing a location accuracy of less than 1 square meter.
Regarding the crowdfunding plans, company founder Matt Dahl had this to say, "This technology is so unique and powerful that it really demands a unique and powerful funding mechanism. After almost 10 years we are now finally in a position to create the ultimate locator. Clearly crowdfunding is the perfect funding mechanism to make that happen. It is the only means that I know of through which a company can acquire funding, customers and market validation all in one go!"
The core technology behind ClearFind's remarkable capabilities is called 'LongWave', so named for its ability to exploit very low frequency radio waves to accomplish what other wireless technologies, such as GPS trackers, have heretofore been unable to do… specifically, offer accurate and reliable wireless location of lost or stolen items without regard to their physical circumstances. Outdoors, indoors, in an elevator, even in the 3rd level of an underground parking garage on the other side of town, ClearFind's LongWave technology is designed to accurately locate whatever the device is attached to.
The company hopes to have first generation discrete products on the market in late 2015 with 'single chip' designs to follow in late 2016 or early 2017.
Initial locator designs are expected to be roughly the size of a flash drive and will be ruggedized to withstand immense crushing, shearing and vibrational forces as well as being fully waterproof to at least 50 meters. Battery life is estimated at two to three weeks between charges with later, single chip, designs offering recharge intervals measured in months or even years rather than weeks.
Citing the overwhelming success of several other wireless locator / GPS tracker crowdfunding campaigns over the past year, ClearFind believes that demand for such a product is obvious and that the market is just waiting for one that actually lives up to the promise of the theoretical concept.
Mr. Dahl put it this way: "The market really, really wants this. It's something that we can all identify with, and all use. The only problem until now has been the base tech. Trying to do this [accurate indoor location at distance] with GPS or Bluetooth is like trying to make ice cream out of kale. There is nothing wrong with kale. It is just the wrong ingredient for the job."
ClearFind, a Chicago based radio-location technology firm, is dedicated to providing technology and services designed to accomplish the singular feat of reuniting customers with their lost or stolen items. Founded in 2014, but based upon technology development that began in late 2004, ClearFind's unique capabilities are the direct outgrowth of their base technology layer, LongWave. LongWave is an all new military-grade modulation technology that allows ClearFind to take full advantage of the natural properties of low frequencies (long range, inherent resistance to signal absorption and multi-pathing errors, ability to easily penetrate walls and earth, etc…) while achieving all of the accuracy, usability and flexibility traditionally only possible with much higher frequencies such as GPS, Cellular or Bluetooth.
"Put simply:" explains company founder Matt Dahl, "LongWave allows us to do things with low frequencies that should be impossible. Like… Four minute mile impossible… sound barrier impossible. Ask any RF engineer what the best imaginable triangulated location accuracy from a frequency like 13.56MHz is and they will tell you something like '500 square meters. …if you could do it, which you can't.' We can do one meter. One. For scale, hold out your arms. That is more than one meter. We will get you that close. The rest is up to you."
For more information on, or to participate in, ClearFind's crowdfunding campaign, see their page on IndieGoGo at: http://igg.me/at/longwave.
For more information on the company contact ClearFind at: info(at)clearfind(dot)net.
Please direct all press inquiries to: press(at)clearfind(dot)net.
ClearFind's founder, Matt Dahl, can be reached directly at matt(dot)dahl(at)clearfind(dot)net.
Tags: Crowdfunding; IndieGoGo; GPS Tracker; Wireless Locator; Bluetooth Tag; Technology; Gadgets; ClearFind; LongWave
#findyourstuff