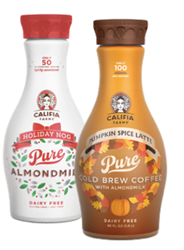 We want you to enjoy the deliciousness of the holidays even more because you choose Almondmilk, not a drop less.
Bakersfield, Calif. (PRWEB) October 16, 2014
Califia Farms is providing the seasonal case at the grocery store with two exciting line extensions in fan-favorite holiday flavors: Holiday Nog made with Almondmilk, and Pumpkin Spice Latte made with Cold Brew Coffee. The highly-anticipated vegan offerings from Califia are dairy-free, soy-free, gluten-free, and GMO-free, with the brand's signature creaminess and flavor innovation transforming the Nog and PSL experience. At significantly lower calories and less sugar per serving than their dairy counterparts, these festive flavors will help fans indulge during the holidays without the dreaded celebratory caloric overload that can result in winter weight gain. Califia Farms products are unique because of their rich, smooth taste and iconic packaging; the brand's award-winning Almondmilk makes a light and creamy base for both the Nog and the Pumpkin Spice Latte. Califia Farms' proprietary Almondmilk recipe starts with raw almonds, ground to a fine meal and then made into a milk. This innovative process produces a cleaner taste profile than the traditional commercial approach of using roasted almond paste to make almond milk. Califia's Almondmilk combines perfectly with bold cold brewed coffee for a less acidic Pumpkin Spice Latte, combined with fall spices to delight the senses. The special combination of Almondmilk, cinnamon, nutmeg and pure cane sugar in Holiday Nog creates a taste experiencet hat delivers on the nostalgia of eggnog without the heavy cream.
"The journey up to and the months during the holiday season can mean a lot of excess sugar and junk, and we want people to enjoy the celebration more freely," said Greg Steltenpohl, CEO of Califia Farms. "Free from guilt, stomach stress, and artificial flavors and sweeteners. Our Holiday Nog was a hit last year, and the addition of our version of a PSL is really fun. We want you to enjoy the deliciousness of the holidays even more because you choose Almondmilk, not a drop less." The two Califia Farms seasonal flavors come in the Company's signature BPA-free 48-ounce carafe with beautiful, celebratory labels that grabs the eye and warm the soul. Califia's Holiday Nog will make the perfect Christmas party gift (no wrapping paper necessary; there's a bow on the front!), and both flavors not only taste great but consumers can feel good about imbibing them because the drinks have less sugar than competitors and no saturated fat. Consumers can locate the seasonal flavors at http://www.califiafarms.com/storelocator.