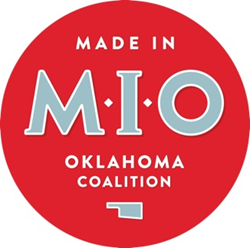 Made in Oklahoma Coalition family just got a lot tastier
Oklahoma City, OK (PRWEB) October 17, 2014
From jellies and watermelons, to candy, barbeque and, even vodka, the Made in Oklahoma Coalition family just got a lot tastier. M.I.O. Coalition has added six new delectable companies to its already impressive smorgasbord of members.
In an effort to continually promote quality products made by quality Oklahomans, M.I.O. Coalition is pleased to announce the following companies will be joining their organization: Toasted Wine Fruit Spreads, Woody Candy Company, "Mo" Betta Meats, Triple S Farms, Swadley's Barbeque and Prairie Wolf Spirits. Each company adds a new and unique note to the M.I.O. Coalition symphony.
"We are proud to recognize these new companies joining the Made in Oklahoma Coalition," Kerry Barrick, Made in Oklahoma Coalition director said. "With these newest members, we continue our mission of helping unique and diverse Oklahoma businesses thrive with our marketing and advertising assistance."
One new member is Triple S Farms. Since 1978 Triple S Farms has been proudly operating in Hydro, Okla. This company brings a beautiful fruit note to the coalition with their homegrown succulent watermelons. These refreshing watermelons have been especially welcoming during the dry and hot Oklahoma summers. There's no better way to combat the heat than by cooling down with a slice of chilled watermelon grown in the fertile Oklahoma lands.
Adding an interesting note, Toasted Wine Fruit Spreads is unlike anything you've ever spread across a bagel. Blending jelly and wine together might seem unusual, but it's definitely delicious. Based on grandma's jelly recipe, the good people at Toasted Wine Fruit Spreads have raised the bar on jelly with their scrumptious spreads.
Another new member got its beginning in 1920. Mr. Ronald Swadley's grandfather started smoking meats behind a small grocery store and his delicious meats became known as Swadley's Barbeque. Swadley's is known for their fresh and never frozen meats and homemade natural sauces. Swadley runs the family business, and there are now five restaurant locations around the Oklahoma City metro area. Their amazing sauces are also sold in many supermarkets. Swadley's gives back to the community by supporting local schools, churches and disaster relief efforts for those in need.
Next up is "Mo" Betta Meats and Woody Candy Company. "Mo" Betta Meats was created by Larry Phillips in conjunction with Josh Heupel, Co-Offensive Coordinator at the University of Oklahoma and former OU football quarterback. When you make a purchase from "Mo" Betta Meats, ten percent of the profits are donated to Josh Heupel's - The #14 Foundation. This organization provides food and gifts to needy families, and they are especially busy during the holidays. Woody Candy Company can brag about being Oklahoma's oldest candy manufacturer. Since 1927, Woody Candy Company has been satisfying the sweet tooth of Oklahomans. Their product line includes mouthwatering pralines, fudge, brittles, toffees and other specialty candies.
M.I.O. Coalition also welcomes Prairie Wolf Spirits. They are the first licensed liquor distillery in the state of Oklahoma. Prairie Wolf is owned and operated by the Merritt family, who has lived in Oklahoma since the Land Run. Already making the purest vodka, and a coffee liquor appropriately named Dark, Prairie Wolf Spirits is excited to announce it will be releasing gin this October.
The Made in Oklahoma Coalition provides a marketing and promotional platform that assists more than 45 Oklahoma food manufacturers. M.I.O.'s marketing programs build brand preference and loyalty for member products. Coalition member companies create a positive impact on the Oklahoma economy by helping put more than 27,000 people to work. These member companies generate more than 3.5 billion in annual sales for Oklahoma. Collective and cross-marketing programs, organized by the coalition, increase sales throughout the state, nation and abroad. M.I.O Coalition continues to expand the footprint of Oklahoma's food processing sector. M.I.O. Good for You. Good for Oklahoma. For more information visit http://www.miocoalition.com.
###