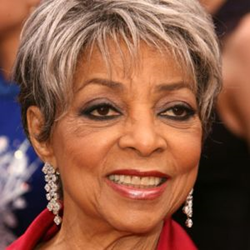 2014 BronzeLens Women SuperStars receive honors for their accomplishments and body of work in front and behind the lens.
Atlanta, Georgia (PRWEB) October 16, 2014
Entertainment industry insiders as well as corporate and community leaders will come together Friday October 24, 2014 to celebrate and pay tribute to BronzeLens Women SuperStars. This highly anticipated luncheon will anchor BronzeLens Film Festival Friday events at the Atlanta Marriott Marquis Hotel. Awards will be given to women of color in the film and television industry for their accomplishments and body of work in front and behind the lens.
2014 BronzeLens Legendary SuperStar Award will be granted posthumously to Ms Ruby Dee, the late actress and activist. Actor, cinematographer Muta'Ali Muhammed who is writer/director of Life Essentials With Ruby Dee and Dee's grandson will receive the award on behalf of the family. Ruby Dee's acting career spanned seven decades crossing all forms of media, and included appearances on Broadway, roles in the American Shakespeare Festival, as the first black actress to portray a lead role in the Festival, and onscreen roles in Raisin in the Sun, The Jackie Robinson Story, television series The Golden Girls, the mini-series Roots: The Next Generations and Spike Lee's Do The Right Thing.
Dee is the recipient of eight Emmy Award nominations, winning one time for her role in the 1990 TV film Decoration Day. In 1995, she and her late husband Ossie Davis were awarded the National Medal of Arts. The couple was also recipients of the Kennedy Center Honors in 2004. The couple then went on to win a Grammy Award for Best Spoken Word Album for With Ossie and Ruby: In This Life Together. In 2007, Dee's role as Mama Lucas of American Gangster earned her both an Academy Award nomination for Best Supporting Actress, and the Screen Actors Guild award for Best Supporting Actress.
As a civil rights activist, Dee was a member of Congress of Racial Equality (CORE), the NAACP, the Student Nonviolent Coordinating Committee, Delta Sigma Theta sorority and the Southern Christian Leadership Conference. Both she and her husband were arrested in an act of civil disobedience in 1999, protesting the police shooting of Amadou Diallo. Dee and her late husband were awarded the Lifetime Achievement Freedom Award by the National Civil Rights Museum in Memphis.
Atlanta native Logan Browning will receive the 2014 BronzeLens Rising SuperStar at this year's Luncheon. Browning has had a prolific career as an actress over the last 11 years. Past roles include recurring characters on The WB's Summerland and Nickelodeon's Ned's Declassified, Sasha in the 2007 film Bratz: The Movie, Brianna in Tyler Perry's television series Meet The Browns, roles on Pair of Kings, The Secret Circle, and independent films, When The Bough Breaks and Brotherly Love. For the last two years, Browning has played Jelena Howard in the VH-1 series, Hit The Floor.
Constance Orlando is the 2014 BronzeLens Behind The Lens SuperStar. As Vice President of Original Programming at Black Entertainment Television (BET), and in her seven-year history with the network, she created content for a broader African-American audience. Production credits include A Conversation with the Queen: The Queen Latifah Special, Film Meets Fashion, Harlem Heights, Monica: Still Standing, The Mo'Nique Show, The Steve Harvey Project and Sunday Best. She has also helped launch Let's Stay Together and brought the popular television series The Game to BET. Orlando served as Executive Producer for the network premiere of Black Girls Rock in 2011 and the subsequent televised awards, including this season's event which is in pre-production.
2014 BronzeLens Visionary SuperStar is Erica Qualls. As General Manager for the Atlanta Marriott Marquis, Georgia's largest hotel, Ms Qualls has supported Georgia's growing film industry by facilitating the Marriott Marquis's role as a central location hosting scenes in blockbuster films from FLIGHT to HUNGER GAMES. This relationship between Qualls, the Marriott Marquis and the film and television industry goes back more than a decade, with Qualls and the Marriott Marquis serving as longtime supporters of African American Women Filmmakers.
Essence Atkins is the 2014 BronzeLens Vanguard SuperStar. With a career reaching back to the mid-90s, Atkins has been a regular in five on-air series and numerous movie roles. Roles include Yvette Henderson on Disney's syndicated hit Smart Guy, Suzanne on Are We There Yet?, DeeDee Throne in Half and Half as well as repeating roles on Malibu Shores and one season on the critically acclaimed Under One Roof with Joe Morton and James Earl Jones. Her movie roles have included A Haunted House I and II, Nikita's Blues, Deliver Us From Eva and Preacher's Kid.
Wendy Raquel Robinson is the 2014 BronzeLens Legendary SuperStar. A Howard University Alumna who graduated cum laude with a Bachelor of Fine Arts in drama, Robinson's most famous roles were as high school principal Regina Grier on the The WB sitcom The Steve Harvey Show (1996-2002), and as sports agent Tasha Mack on the The CW/BET comedy series The Game. She made appearances on favorites including Martin, where she made her acting debut, The Parkers, All of Us and The Adventures of Old Christine. Film credits include roles in The Walking Dead, A Thin Line Between Love and Hate, Ringmaster, and Rebound.
Mistress of Ceremonies for this groundbreaking event will be Atlanta broadcast legend and award-winning journalist Monica Pearson. The luncheon will be held on Friday from noon until 2 o'clock pm, October 24, 2014, at the Atlanta Marriott Marquis Atrium Ballroom, 265 Peachtree Center Avenue, Atlanta, GA. For more information regarding the BronzeLens Film Festival and the Women Superstars Luncheon tickets visit http://www.bronzelens.com.
About the BronzeLens Film Festival
Founded in 2009, The BronzeLens Film Festival of Atlanta, Georgia is a non-profit organization dedicated to bringing national and worldwide attention to Atlanta as a center for film and film production for people of color. Its mission is twofold: to promote Atlanta as the new film Mecca for people of color; and to showcase films and provide networking opportunities that will develop the next generation of filmmakers. Since its inception the BronzeLens Film Festival has evolved as one of the most comprehensive film festivals for filmmakers of color in the United States. Visit http://www.bronzelens.com for more information regarding the BronzeLens Film Festival and for registration information.
Sponsors of the BronzeLens Film Festival are Atlanta Convention and Visitors Bureau, The Coca-Cola Company, Turner Broadcasting System, Atlanta Marriott Marquis, Delta Air Lines, HBO Documentary Films, BET Networks, Georgia Pacific, The Woodruff Arts Center and City of Atlanta Office of Cultural Affairs.
Media Credentials
All media must email tinaospencer(at)gmail.com to request access to cover these opportunities. We will do our best to honor all requests. For more information regarding the BronzeLens Film Festival visit http://www.bronzelens.com.
Approved media will have access to interview areas, and red carpet arrivals, for which press has RSVP'd in advance and received written confirmation from Terri Vismale-Morris or Tina Spencer. This includes media opportunities for the filmmakers and cast who are in town for their films, as well as other Festival events.
###
Contacts:
Terri Vismale-Morris
Director of Public Relations BronzeLens Film Festival
404.346.0410 or tvmorris(at)bronzelens.com
Tina O. Spencer
Manager of Public Relations BronzeLens Film Festival
313-617-0484 or tinaospencer(at)gmail.com