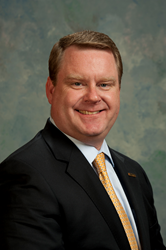 Priced managed lanes offer highway users the option of paying a predetermined price to use the toll lanes, reducing congestion.
ARLINGTON, Va. (PRWEB) October 16, 2014
With the growing importance of priced managed lanes as a solution for highway congestion relief, HNTB Corporation, a national infrastructure solutions firm, announces the move of Matthew Click, AICP, vice president and director priced managed lanes, to the mid-Atlantic region to enhance its services to clients in one of the most gridlocked regions in the country.
Click moves from the firm's Oakland, California, office and will now be based in Arlington. He will continue to provide his expertise to clients nationally as well as those in the mid-Atlantic, including the District Department of Transportation in Washington, D.C., Virginia Department of Transportation and Richmond Metropolitan Transportation Authority.
Priced managed lanes, also known as express lanes, are a possible solution to dealing with highway congestion. They are well-known in certain parts of the country including Northern Virginia, with the November 2013 completion of express lanes on Interstate 495. Express lanes offer highway users the option of paying a predetermined price to use the toll lanes, thereby enabling drivers to maintain a speed of at least 45 miles per hour, which reduces congestion.
With 18 years of extensive experience in tolling, all-electronic tolling, transportation finance, congestion pricing and priced managed lanes, Click is one of the industry's most recognized specialists in priced managed lanes, corridors and networks. In his position, Click advises transportation agencies about planning, financing and implementing priced managed lanes programs in congested urban areas. He has worked, or is currently working on managed lanes, corridors and network programs in Florida, Georgia, Washington, Minnesota, Connecticut, Texas and California. Further, he is advising transportation agencies in Illinois, New York and North Carolina about all-electronic tolling and traffic and revenue studies.
HNTB is a leading consultant to toll agencies across the country, serving as general engineering consultant to more tolling agencies than any other firm in the United States. It is a partner to 20 of the 36 transportation agencies nationwide that are operating, or developing, systems using priced managed lanes, also known as express lanes.
Click has a Master of Science in urban and regional planning from Florida State University. He also attended the Leadership Academy and Graduate Leadership Academy at the Florida Department of Transportation.
Click often is requested to speak at industry conferences and events, including the International Bridge, Tunnel and Turnpike Association and by media, including a panel presentation on the growing acceptance of priced managed lanes at the National Press Club in Washington, D.C.
About HNTB
HNTB Corporation is an employee-owned infrastructure solutions firm serving public and private owners and construction contractors. With a century of service in the U.S. and more than 60 years in Virginia and the mid-Atlantic region, HNTB continues to grow in size and service offerings to clients from offices throughout the mid-Atlantic region, currently employing approximately 125 full-time professionals in Virginia. HNTB understands the life cycle of infrastructure and addresses clients' most complex technical, financial and operational challenges. Professionals nationwide deliver a full range of infrastructure-related services, including award-winning planning, design, program management and construction management. For more information, visit http://www.hntb.com.