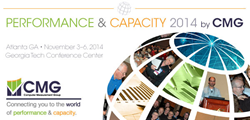 "CM First looks forward to meeting with the CMG membership and offering a new perspective on achieving performance goals," Rhodes said. "Register now and join us in Atlanta in November."
Austin, TX (PRWEB) October 20, 2014
Technical debt isn't new but most people never considered the cost of bad code, believing that most applications would be replaced over time. Y2K showed how wrong that assumption is; legacy code is still running vital production systems and the errors and bad coding choices continue to accumulate. Even newer applications start accumulating the debt; it's rare to find perfect code. However, the cost of remediation has kept most companies from trying to fix the problem. The theory appears to be that hardware is cheap and so it's okay to continue to accrue and pay for debt.
At CMG 2014, John Rhodes, CM First Group, and Denise Kalm, Kalm Kreative, Inc., will explain how dangerous it is to ignore the problem. Not only does technical debt cost companies hardware resources; it also impacts business application performance and exposes systems to security risks. The talk, "Technical Debt – the Secret Drain on Capacity Dollars and Performance," will be presented Tuesday AM, November 4th, at the Georgia Tech Conference Center in Atlanta. http://edas.info/p17053#S1569482269
"Application modernization can be stopped in its tracks by technical debt," Rhodes said. "But the impact to ongoing performance and security means that even if a company doesn't choose to embrace modernization, customers will still be impacted by the accumulating application debt."
Computer Measurement Group (CMG) has long focused on best practices for managing performance and capacity. http://www.cmg.org . Yet not much has been presented about the cost of technical debt. CM First saw an opportunity to fill the gap. CM First has been a leader in promoting the necessity to remediate the problem as well as providing a solution. For more information about the subject, check out the white paper CM First has produced. http://www.cmfirstgroup.com/resources/technical-debt-what-is-it-costing-your-company/ Learn more about remediation at: http://www.cmfirstgroup.com/initiatives/application-modernization/
Founded in 1974, the independent, volunteer-run CMG organization has facilitated the exchange of information among enterprise computing professionals concerned with the measurement and management of IT systems from a performance, capacity and cost recovery standpoint. The organization holds an annual conference each year in the United States and also supports a number of US-based regional and international organizations who hold smaller, local meetings.
"CM First looks forward to meeting with the CMG membership and offering a new perspective on achieving performance goals," Rhodes said. "Register now and join us in Atlanta in November."
About CM First
CM First is a global software and services company with focus on application modernization, custom development of enterprise applications that support high-performing, and agile development teams in three key areas: Application Modernization for IBM Environments, Custom Application Development Architected and Agile, Tools and Technology for Future Development. Many modernization reference customers include Hapimag (travel industry), United Heritage (insurance) and Hartman & Hartman (construction). http://www.cmfirstgroup.com/wp-content/uploads/2013/10/Hapimag-Customer-Success-Story.pdf