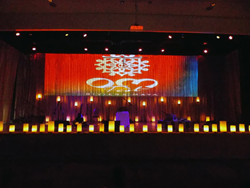 As the main representative of IMY (Mexican Yoga Institute), I like the idea that events like these are taking place in the Riviera Maya, which makes it possible to share and create awareness about yoga with people from all over the world
Cancún, Quintana Roo (PRWEB) October 17, 2014
October is cancer awareness month, the time for turtle liberations and health week, just to name a few events to raise consciousness. Holistic tourism is taking positive steps toward creating a culture of a healthy mind in a healthy body as well as going back to nature, enjoying and caring for the environment and finding a true balance, with the Mayan region as the perfect location.
As part of its mission to promote holistic and sustainable tourism - which means enjoying our natural surroundings while fully respecting habitats and the environment - Hacienda Tres Ríos served as the host of the first edition of Om Fest, which took place from October 10th to the 12th. It was a dynamic and spiritual event where 15 different styles of yoga were practiced along with workshops, conferences, meditation, mantras, music, dance and an ExpoYogi (an exhibit of more than 10 domestic and worldwide labels) that took place in a natural and magical site framed by the beauty of the Riviera Maya.
The main purpose of each one of the events, as part of the mission to create high quality experiences for visitors, is to pinpoint the destination as the meeting spot for holistic tourism with activities leaning toward health care, being in contact with nature and spirituality.
"As the main representative of IMY (Mexican Yoga Institute), I like the idea that these type of events are taking place in the Riviera Maya, making it possible to share and create awareness about yoga among people from all over the world; the Institute gladly welcomes Om Fest and any other event of its kind" stated Ana Paula Dominguez, founder and director of the Mexican Yoga Institute.
On its opening day, Om Fest hit a high note with a concert of sacred music and celebration presented by internationally famous dancer and singer Paloma Devi who mixes her music with sounds, energy and feelings of spiritual and carnal love. On the second day, the Park's sinkholes were witness to 4 Paddle Board Yoga classes that demand full balance and concentration and a profound connection between body, mind, spirit and nature. The last day of events began masterfully with the outdoor yoga classes where the general public was able to get a taste of this millennial practice. The day went on with "Children of light, children in harmony" workshops for children, and closed with a bang with a presentation by MC Yogi and his wife Amanda Giacomini, which featured hip hop rhythms mixed with Hindu philosophy and bhayans (devotional songs).
In today's Riviera Maya, ancient health and wellness rituals come into contact with exciting new practices that are attracting the world to our destination. The ideal of going back to the origin is in.
For further information
Marketing and Communication Department
nchavez(at)sunset.com(dot)mx
(998) 287 4100 ext. 3508