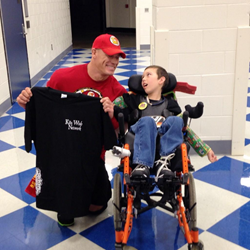 We couldn't have asked for a better birthday present for Darrol.
WILLISBURG, Ky. (PRWEB) October 16, 2014
Darrol Byrd of Willisburg, K.Y., received a once-in-a-lifetime birthday present this year. Right before celebrating his 11th birthday, children's charity Kids Wish Network granted Darrol's wish to meet WWE Superstar John Cena before attending a WWE LIVE event.
"Darrol loved meeting John Cena," recalls his father, Myron Byrd. "WWE wrestling is one thing that you can tell Darrol is clearly into; we couldn't have asked for a better birthday present."
While this birthday gave Darrol a memory to cherish forever, he still faces a daily medical battle. When Darrol was only two weeks old, he was diagnosed with a genetic disease called Lesch-Nyhan syndrome. The disorder is characterized by neurological and behavioral abnormalities and the overproduction of uric acid which can cause kidney and bladder stones.
Darrol faces daily physical pain and is prone to kidney stones. He is also wheelchair-bound and needs someone to take care of him at all times. He cannot dress himself, feed himself, or do anything on his own. One of the most common and distinctive behavioral issues with people suffering from Lesch-Nyhan syndrome is self injury; it is unknown how the disease causes these problems.
No specific treatments currently exist for Lesch-Nyhan syndrome; certain medications treat uric acid levels but cannot improve neurological outcomes. However, Darrol has no developmental delays and keeps up well in school. One thing that always brings a smile to Darrol's face is sports, even though he has to watch from the sidelines. Darrol gets very excited about WWE, especially superstar John Cena.
And thanks to Kids Wish Network, Darrol got to meet the wrestler on his wish right before a LIVE match. Darrol and his family were sent on an all-inclusive wish trip to Lexington, KY, as the organization provided luxury accommodations and dining experiences along with the WWE event.
Darrol got to spend quality time with John Cena during the meet-and-greet where the wrestler signed autographs, posed for photos and gave Darrol some Cena swag.
"We can't thank you all enough for Darrol's wish," adds Bryd.
Kids Wish Network would like to thank all the generous sponsors that helped grant Darrol's wish: Hyatt Place Lexington, WWE LIVE, John Cena, Johnny Carino's Italian Grill, Cheddar's Casual Café, and Cafe Press.
Kids Wish Network is charitable organization dedicated to infusing hope, creating happy memories, and improving the quality of life for children having experience life-altering situations. You can become part of the Kids Wish Network difference and help make dreams come true. Visit http://www.kidswishnetwork.org for more information.