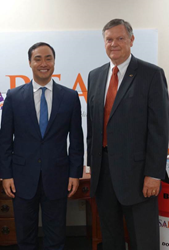 'Through the SAReads book drive, we are able to put books in the hands and homes of children who otherwise would not have them.' -- Pamela Toman, Executive Director of SAReads
San Antonio, Texas (PRWEB) October 20, 2014
Congressman Joaquin Castro was at Firstmark Credit Union to join Literacy San Antonio and other community leaders for an official wrap-up of the SAReads 2014 Summer Book Drive.
"San Antonio has been blessed with incredible economic momentum. That is why we must continue to ensure that we are also setting up a strong foundation through education so that our youth can reap the benefits of our city's prosperity," said Congressman Joaquin Castro. "I am proud to know that a small community book drive that I started a few years ago has transformed into a thriving organization, SAReads, which collected over 8,000 books this summer alone for kids all over Bexar County."
During July and August, donations of new and gently used books were collected at 39 donation drop off locations across San Antonio. SAReads Book Bank donation bins were stationed inside all San Antonio Public Library branches, all Firstmark Credit Union branches, and the Twig Book Shop at the Pearl. The books are then provided free of charge to many non-profit organizations, schools, and other groups in the San Antonio area throughout the year.
"Founded by educators in 1932, our roots are in education. Firstmark is pleased to be a part of this important initiative to improve literacy rates," said Leon Ewing, President/CEO Firstmark Credit Union. "In the long term, this will increase high school graduation rates, help ensure more students pursue advanced education, and create a better-educated workforce. And it all begins with a single book."
The SAReads Summer Book Drive is a collaborative effort with a number of San Antonio organizations," said Pamela Toman, Executive Director of SAReads. "With support from Congressman Castro, Firstmark Credit Union, the San Antonio Food Bank, the San Antonio Public Library, and others, we are able to help put books in the hands and homes of young children who otherwise would not have them."
About Firstmark Credit Union
Firstmark Credit Union provides financial services to anyone who lives, works, worships or attends school in Bexar County as well as education-related employees in Bexar County and the 11 surrounding counties; and their relatives. Established in 1932, the Credit Union has 14 locations serving over 94,000 members and manages $860 million in assets. For more information, go to firstmarkcu.org.
About SAReads
SAReads, coordinated by Literacy San Antonio, Inc., is a network of strategic alliances focused on increasing reading scores and providing access to books for children in our community. Geared toward kindergarten through 3rd graders, SAReads is based on research from the Harvard Graduate School of Education Language Diversity and Literacy Development Group. SAReads is a multi-year reading support that provides a multi-dimensional approach.