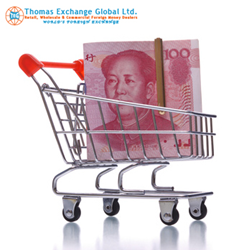 Chinese group tourists are high spending shoppers and there is a global competition to attract them. The proposed visa refund is a positive move for the UK to be competitive and attract more tourists
London, UK (PRWEB UK) 24 October 2014
The United Kingdom has announced the plans to refund visa costs of Chinese tourists in an attempt to boost the inbound tourist arrivals to the country, "Global Travel Industry News" reported on 17th September 2014. The report further stated that the visa refund will apply to Chinese tourists arriving in organised tour groups and expect to gain an economic benefit of over £13 million in the retail and travel sector. Thomas Exchange Global will be offering competitive exchange rates for these Chinese tourists for the Chinese Yuan.
"Chinese group tourists are high spending shoppers and there is a global competition to attract them. The proposed visa refund is a positive move for the UK to be competitive and attract more tourists," stated Trevor Samuel, the marketing manager at Thomas Exchange Global Ltd.
Despite the cost involved in obtaining visas, Chinese tourist arrival to the UK increased by 10% in 2013 while visitors spent nearly £500 million pounds.
"The Chinese tourist market is ever growing and the UK needs to be competitive to attract them. As such, we offer the most competitive exchange rates for Chinese Yuan, facilitating the visitors to shop, dine and wine in London at ease," Samuel continued.
In addition to Chinese Yuan, Thomas Exchange Global offers competitive exchange rates for other Eastern Asian currencies such as Hong Kong Dollars, Vietnamese Dong, and South Korean Won.
About Thomas Exchange Global
As dedicated foreign exchange specialists, Thomas Exchange Global has the professional expertise, in depth market knowledge, technological infrastructure and commitment to provide an unprecedented level of service that sets the standard in the foreign exchange industry. They are specialists in all areas of foreign exchange. They provide commission free currency as well as travellers cheques.
Thomas Exchange Global also offers International Money Transfer Service where funds can be remitted to overseas bank accounts within one to two days. With commission free service for transfers over £10,000 backed by competitive exchange rates, customers are assured of a better deal and a substantial saving compared to banks and money brokers.
Thomas Exchange Global branches are located at Strand, Victoria Street, Liverpool Street, Hammersmith, Cannon Street , Wormwood Street and Richmond.
For further details visit http://www.thomasexchangeglobal.co.uk or call 020 7240 1214.